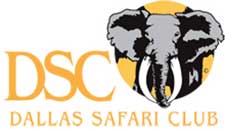 DALLAS, TX. -(Ammoland.com)- Fueled by unprecedented growth in its annual convention, Dallas Safari Club (DSC) has allocated a record $1.2 million for 2014 grants to support conservation, education and hunter advocacy efforts worldwide.
DSC has more than doubled its annual grant totals since 2010.
Over the past five years combined, DSC has allocated $4.5 million for projects ranging from researching African lion population dynamics to improving habitat for desert bighorn sheep in west Texas, and from educating youths to lobbying Congress for beneficial legislation.
These figures do not include $350,000 raised in January by auctioning a hunting permit for a black rhinoceros. Those proceeds were not routed through DSC but will go directly from the buyer to Namibia for crucial rhino conservation and anti-poaching initiatives.
"We're looking forward to selecting worthy projects to fund with this year's $1.2 million," said Ben Carter, DSC executive director. He added that specific grant announcements will follow in coming weeks.
Carter said the DSC convention and expo, next slated Jan. 15-18, 2015, at the Kay Bailey Hutchison Convention Center in Dallas, is enjoying a substantial uptrend in attendees, exhibitors, booths, corporate sponsorships and auctions. Membership also is growing steadily.
"The additional revenues translate to additional spending in support of our mission," he said.
Carter thanked the organization's supporters, volunteers and staff for their ongoing devotion to DSC, conservation, education and hunter advocacy.
About Dallas Safari Club
Desert bighorns on an unbroken landscape, stalking Cape buffalo in heavy brush, students discovering conservation. DSC works to guarantee a future for all these and much more. An independent nonprofit organization since 1982, DSC has become an international leader in conserving wildlife and wilderness lands, educating youth and the general public, and promoting and protecting the rights and interests of hunters worldwide.