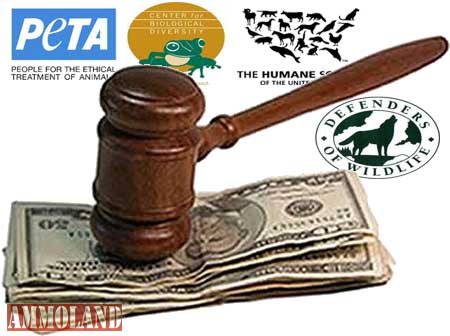 Lansing, Michigan – -(Ammoland.com)-  On President Obama's first full day in office, he issued a clear message in his Freedom of Information Act memorandum:
"In the face of doubt, openness prevails. My Administration is committed to creating an unprecedented level of openness in government. We will work together to ensure the public trust and establish a system of transparency, public participation, and collaboration. Openness will strengthen our democracy and promote efficiency and effectiveness in government."
Over the past few years, American's have witnessed governmental scandals and stonewalled investigations relative to the IRS, Benghazi, ATF's Fast and Furious scheme, Solyndra and more. Yet, hope remains in The U.S. House of Representatives, which has passed a bipartisan bill to publish details on lawsuits lost or settled by federal agencies that must pay the private legal fees of the other side.
The Open Book on Equal Access to Justice Act (H.R. 2919) amends the Equal Access to Justice Act (EAJA) and the federal judicial code to require the Chairman of the Administrative Conference of the United States to report to Congress annually on the amount of fees and other expenses awarded to prevailing parties other than the United States in certain administrative proceedings and civil action court cases (excluding tort cases) to which the United States is a party, including settlement agreements.
Imagine that! American taxpayers could actually find out where some of their money goes.
A novel idea, indeed, which is now on the shoulders of the U.S. Senate Committee on the Judiciary. The question now is if the bill will find its way to a vote of the Senate.
In a letter from the U.S. House of Representatives Committee on Natural Resources signed by Chairman, Doc Hastings to Ignacia Moreno, Assistant Attorney General, U.S. Department of Justice, Environment and Natural Resources Division the following was communicated:
"In fiscal year 2010, the Fish and Wildlife Service (FWS) spent so much of its $21 million listing budget on litigation and responding to petitions that it had almost no money to devote to placing new species under federal protection…the Endangered Species Act should be modernized and updated to once again focus the law on true species recovery."
The GAO asked 75 bureaus and agencies at USDA and the Department of Interior for records on payments, but only 10 of these 75 could provide data on cases and attorney fee reimbursements. Even the records provided were incomplete and unreliable, based on manual calculations from older files, and the memory of career employees. Moreover, some records may overlap, so GAO is not even certain of their totals.
Even these sparse records demonstrate that millions of dollars are going out the door. GAO identified $4.4 million per year of EAJA payments to environmental groups during the period of 2000-2010 from suits against the 10 units of USDA and DOI that had any records at all.
A broader analysis including additional federal court records and public tax returns from just 20 environmental organizations showed $9.1 million reimbursed during FY2010 alone, as demonstrated by attorneys for the Boone and Crockett Club.
"Many people have opinions on environmental litigation," said Boone and Crockett Club President Emeritus Lowell E. Baier, a Maryland-based attorney, "but there must be data on what is actually happening before anyone's opinion can help with this issue."
What we don't know can hurt and it's time to actually promote the transparency we were all promised. Our wildlife depends on it.
About Glen Wunderlich
Charter Member Professional Outdoor Media Association (POMA). Outdoor writer and columnist for The Argus-Press (www.argus-press.com) and blog site at www.thinkingafield.org  Member National Rifle Association (NRA), Michigan United Conservation Clubs (MUCC), member U.S. Sportsmen's Alliance (USSA), Quality Deer Management Association (QDMA), Commemorative Bucks of Michigan (CBM). Adjutant of Perry, Michigan Sons of Amvets Post 4064 and Chairman Perry (MI) Youth Hunt Extravaganza, a sanctioned event of Perry Sons of Amvets held the third weekend of September each year.