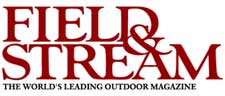 New York, NY —(Ammoland.com)— Field & Stream, published by the Bonnier Corporation, was recognized for editorial excellence with a National Magazine Award for General Excellence, Active Interest Magazines, from the American Society of Magazine Editors (ASME).
The ASME awards represent the magazine industry's highest annual honor, and General Excellence is widely regarded as one of the most prestigious categories. Of the sixty-six finalists, Field & Stream was the only hunting or fishing magazine represented.
"I was honored to accept a National Magazine Award on behalf of the entire staff," said Anthony Licata, Editorial Director of Field & Stream.

"While every nomination in a competition of this caliber is reason to celebrate, I'm particularly thrilled with Field & Stream's win for General Excellence. This is a nod not just to one particular story or aspect of the magazine but rather to the excellent work of the entire staff. I'm privileged to work here at Bonnier with such a passionate and talented team and to serve the millions of outdoorsmen in this country."
This marks the second National Magazine Award for Field & Stream, which also won for General Excellence in 2009. The category recognizes "the effectiveness with which writing, reporting, editing and design all come together to command readers' attention and fulfill the magazine's unique editorial mission," according to ASME. Other finalists in the category were Men's Journal, Outside, Runner's World and Women's Health.
"Hunting and fishing deserve smart, innovative and entertaining coverage, and we're proud to deliver that to our dedicated audience," said Gregory Gatto, Publisher of Bonnier's Men's Group.

"Our editors are the best in the business, and this recognition from their peers is a well-deserved appreciation of their talent and their dedication to the brand and these sports."
The win was announced last night at New York's Marriot Marquis Hotel. Joe Scarborough and Mike Brzezinski of MSNBC's Morning Joe served as hosts for the event. Winners were presented with a copper-colored sculpture designed by Alexander Calder, referred to as an "Ellie" for its resemblance to an elephant.
In its 119-year history, Field & Stream has previously been nominated for 21 National Magazine Awards, including nine in the past six years under Licata's leadership.
The National Magazine Awards are regarded as the Oscars of magazine publishing and the preeminent program in the industry to honor editorial excellence. ASME sponsors the awards program in association with the Columbia Graduate School of Journalism. Winners were selected by 333 judges from the country's top digital and print magazines. More than 250 print and online publications submitted entries.
About Field & Stream
Field & Stream, The World's Leading Outdoor Magazine, is the country's largest and most recognized outdoor publication. Devoted to the complete outdoor experience and lifestyle, Field & Stream gives its readers the knowledge and inspiration to pursue the sports they love. It celebrates the outdoor experience with great stories, compelling photography and sound advice, while honoring the traditions hunters and fishermen have passed down for generations. Established in 1895, Field & Stream is the country's largest circulation special-interest magazine and is published 11 times per year by Bonnier Corporation.
About Bonnier Corporation
Bonnier is one of the largest consumer-publishing groups in the United States and the leading media company serving passionate, highly engaged audiences through special-interest magazines and related multi-media projects and events.