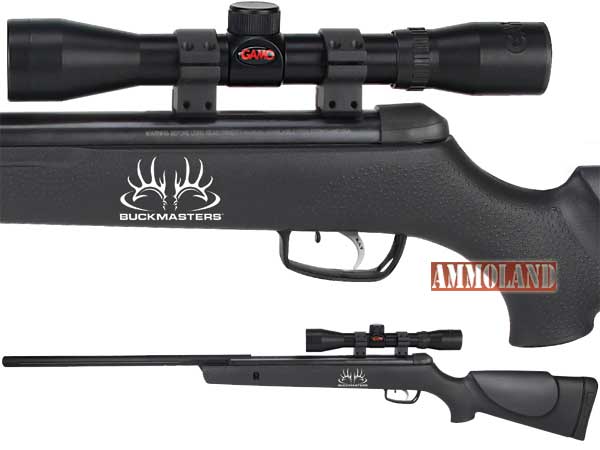 Fort Lauderdale, FL – -(Ammoland.com)- Gamo Outdoor USA (www.gamousa.com), the leading manufacturer of high quality air guns, optics and laser designators, in partnership with Jackie Bushman, host of Buckmasters and The Jackie Bushman hunting TV shows both on the Outdoor Channel, and also leader of the Squirrel Master Classic 2014 winning team, will unveil the new and powerful Buckmasters Squirrel Terminator air rifle.
The new air rifle features the latest in Gamo technology – the Turbo Stabilizing System. Designed to control the aggressiveness of the firing cycle it brings the spring to a controlled stop within the chamber – adding more velocity, decreasing vibration, thus reducing recoil. The .177 air rifle gives the shooter more power and velocity with its premium features and new technology.
"We are excited about teaming up with Gamo, the number one brand in adult air rifles. We want to give the consumer a product they will love to shoot at a price they can afford. We also want to promote small game hunting because that is where we all got started. If I were a squirrel I would start running!" said Jackie Bushman.
Buckmasters Squirrel Terminator Specs
– 1,275 fps with PBA Platinum pellets
– Fluted polymer jacketed rifled steel barrel
– New, ergonomic design
– All weather synthetic black stock
– Turbo Stabilizing System™
– SAT Smooth Action Trigger
– SWA (Shock Wave Absorber), with up to 74% recoil absorption
– 4×32 rifle scope
– MSRP: $219.95
To stay updated on the latest and greatest from Gamo Outdoor USA please follow us on:
Gamo Outdoor USA is a leading consumer products company that designs, manufactures and markets a diverse portfolio of outdoor sporting goods products under such world class brands as GAMO, BSA Optics, Laser Genetics, Aftermath, and is the exclusive distributor of BSA Guns and Joker Knives.