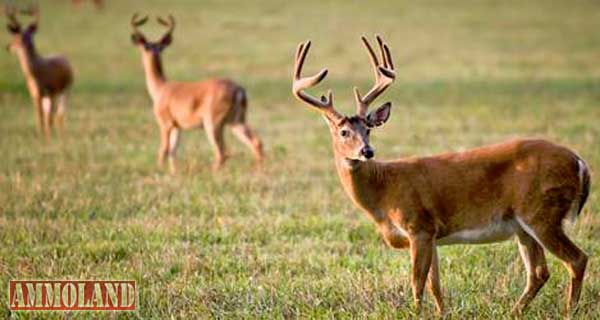 PIERRE, SD. -(Ammoland.com)– With decreased deer populations across the state, the South Dakota Game, Fish and Parks Commission has proposed to reduce the number of licenses and tags for many of the state's deer hunting seasons.
The proposed East River deer season would result in a reduction of 7,240 licenses and a reduction of 20,560 tags compared to 2013. A substantial decrease in antlerless tags is intended to increase deer populations in several management areas.
This management response is being implemented where deer populations have declined over the past few years due primarily to outbreaks of epizootic hemorrhagic disease (EHD), habitat loss and weather.
The proposed West River deer season would result in 3,775 fewer licenses with a corresponding reduction in tags by 25,120 (56 percent). Similar to the East River deer season, the most significant reduction in tags for the West River season will be antlerless tags; which are proposed to decrease by 86 percent or 23,145 compared to what was available in 2013.
The Commission proposal for the Black Hills deer hunting season would have no antlerless licenses for 2014. The Black Hills proposal calls for 200 resident and 16 non-resident any deer licenses and 3,000 resident and 240 non-resident any whitetail deer licenses.
The Department of Game, Fish and Parks (GFP) recommended no changes to the Custer State Park deer hunting season and will again have 10 any whitetail licenses and 20 antlerless whitetail muzzleloader licenses.
The proposal for the 2014 archery deer hunting season would only allow the harvest of whitetail deer on antlerless deer licenses. Each hunter could only have one antlerless license. In addition, several management units in both the eastern and western parts of the state would be closed to antlerless archery deer licenses.
Under the Commission proposal, the area used during the archery season east of the Adams Homestead and Nature Preserve would be modified and reduced in size. The number of access permits for the Adams Homestead and Nature Preserve will be reduced from 10 to 5.
As proposed for the archery season, only whitetail deer could be harvested with antlerless licenses during the muzzleloader season. A hunter would be limited to one antlerless license.
Youth deer hunters could have one antlerless license; which would be valid statewide under the Commission's proposal.
The Commission's proposal would reduce refuge deer licenses for residents by 15 and for non-residents by three for the Waubay National Wildlife Refuge. For LaCreek National Wildlife Refuge, licenses will be valid for any deer and no antlerless licenses would be issued.
View the full deer hunting season proposals.
View a video explaining updates to deer management and current research projects.
The Commission will finalize these proposals at their June 5-6 meeting in Yankton at Lewis and Clark Resort. To be part of the official public record, comments must be received by 12 p.m. on June 5. Please include your full name along with the city and state of residence. If you would like to comment in person, the public hearing will be held Thursday, June 5, at 2 p.m. CDT at Lewis and Clark Resort in Yankton.