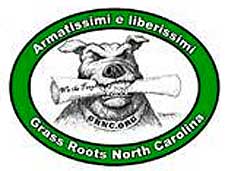 North Carolina –-(Ammoland.com)- In 1994, when Grass Roots North Carolina held its first rally at the state capitol, we never imagined we would be around for twenty years, much less that in two decades we would accomplish so much, including (as a small sample):
Passing concealed carry, concealed handgun reciprocity, and the purchase permit bypass;
Passing Castle Doctrine/Stand Your Ground; and
Passing House Bill 937's dramatic expansion of concealed carry into restaurants, educational properties (limited), public assemblies and elsewhere.
JUNE 21 GRNC ANNUAL MEETING & DINNER SCHEDULE
Founded in 1994 and marking two decades of defending your rights, GRNC's annual dinner on June 21st in Charlotte is themed: "Celebrating Twenty Years of Victory" (https://grnc.org/annualdinner) and will feature nationally renowned speakers, including:
John R. Lott, the man whose research fueled the explosion of concealed handgun laws and author of "More Guns, Less Crime." Lott will discuss his exciting new "Crime Prevention Research Center" and its efforts to blunt Bloomberg-funded propaganda disguised as "research" from Johns Hopkins University and elsewhere. You've seen Lott on Fox News, CNN and elsewhere. His writings appear regularly in The Wall Street Journal, National Review and elsewhere. Now meet him in person!
Andrew Branca, the foremost expert on U.S. Self-Defense law across all 50 states and author of "The Law of Self-Defense," recently reviewed in the NRA's America's First Freedom magazine. Branca will not only address the dinner, earlier in the day he will teach a four hour seminar on what to expect (and how not to go to prison) if faced with the need to use a gun in self-defense. For details on the "Law of Self-Defense" seminar, go to: https://grnc.org/the-law-of-self-defense-seminar-2014
Bill LuMaye, popular and widely renowned conservative talk show host of "The Bill LuMaye Show" on Raleigh's WPTF radio, will emcee the event.
EVENT AGENDA
11:00AM-3:00PM:
"The Law of Self-Defense" seminar by Andrew Branca
3:30PM-4:30PM: GRNC Annual Meeting
4:30PM-5:15PM: GRNC Board of Directors Meeting
5:30PM-6:45PM:
GRNC VIP Reception
7:00PM-9:00PM:
GRNC Annual Dinner: "Celebrating Twenty Years of Victory"
9:00PM-????: Get together in GRNC hospitality suite
EVENT DETAILS
WHEN:
June 21, 2014
WHERE: Holiday Inn Center City, 230 N. College St., Charlotte, NC 28202, 704.335.5400
COST: GRNC dinner: $55 for 1st ticket and $45 for 2nd and subsequent tickets.

VIP reception: $25 (free to GRNC Benefactor members, PRO RKBA Benefactor sponsors, and active volunteers by emailing [email protected])

Law of Self-Defense Seminar: $120 until June 7, and $150 after June 7 (add $10.75 for book)
TICKETS: For details and tickets to GRNC's "Celebrating Twenty Years of Victory" dinner or VIP reception, go to:
https://grnc.net/zencart/

SIGN UP NOW & SAVE!
'LAW OF SELF-DEFENSE' DISCOUNTED $30 UNTIL JUNE 7!
SUPPORT CRIME PREVENTION RESEARCH CENTER
If you're like us, you've watched megalomaniac, anti-gun zealot and billionaire Michael Bloomberg attack the Second Amendment and said to yourself, "Somebody ought to do something about that."
Bloomberg's first attack was "Mayors Against Illegal Guns," with a real goal to ban all guns. Then came "Mom's Demand Action for Gun Sense in America," the "astroturf" organization with paid staffers right here in North Carolina who are busily trying to get restaurants and other businesses to ban guns. Now Bloomberg has folded it all into a new sham group calling itself "Everytown for Gun Safety" — along with $50 million of his fortune — all to elect anti-gun politicians.
What you might not know is that Bloomberg also funds the "Johns Hopkins Bloomberg School of Public Health," a mission for which is to conduct sound bite science designed to propagandize the public and create more pressure for gun control. Bloomberg has bought his own "research" with $1.1 billion (yes, "billion") in contributions. Given that and Obama's demands for more agenda-driven "research," rest assured you will hear more from Johns Hopkins.
Fortunately, there finally is somebody "doing something about it": Dr. John R. Lott, researcher and author of More Guns, Less Crime, who is internationally published and interviewed on gun-related topics. Lott's new organization is the Crime Prevention Research Center, and its mission is to expose fraudulent research and sound bite science being conducted to push gun control.
But John and the fledgling CPRC need your help. Please go to Crime Prevention Research Center (https://crimepreventionresearchcenter.org/) and consider making a donation to help Lott and his staff fight Michael Bloomberg!
About: Grass Roots North Carolina is an all-volunteer organization dedicated to preserving the freedoms guaranteed us by the Bill of Rights. Our main focus is the right to keep and bear arms. GRNC was central to drafting and passing North Carolina's concealed handgun law and since that time has continued to push for improvements to gun laws. Visit:www.grnc.org