By AWR Hawkins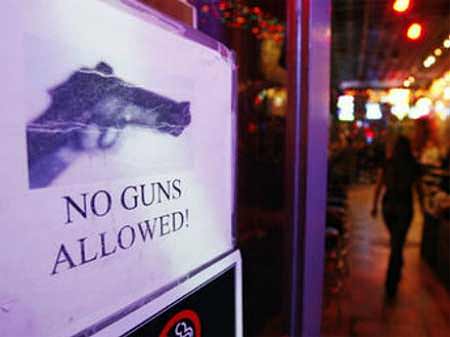 Washington DC – -(Ammoland.com)-  On May 23rd 2014, Fox News' Greg Gutfeld opened a segment of The Five by focusing on how restaurants that ban law-abiding citizens from carrying guns actually put customers "on the menu" as "sitting ducks."
Gutfeld said making a legitimate, logical argument against gun free zones is "as easy as stealing candy from a baby or from a store that advertises its gun free status."
He then referenced the May 18  2014 robbery of The Pit restaurant in Durham, North Carolina. As Breitbart News reported, The Pit had a sign on its front door, saying, "No Weapons, No Concealed Firearms" allowed. It was robbed at gunpoint, and two employees were assaulted by the armed robbers.
Gutfeld sarcastically stated, "The robbers totally ignored the sign."
He continued:
Well, they really didn't ignore it at all. They saw it as an invitation, suggesting that the only guns at the restaurant squirted soda. Why not make a sign that says, "Robbers welcome. The cash register is up front, the safe's in the back, [and] the combination is Shakira's birthday"?Like I said, touting gun free zones only makes you a richer target. Studies show that felons are less likely to rob the armed than the unarmed. … My advice to the owners going gun free: fine, but don't advertise it. Think about your workers and the customers–because they are what's really on the menu, and it's called "sitting duck."
Follow AWR Hawkins on Twitter @AWRHawkins.
About:
AWR Hawkins writes for all the BIG sites, for Pajamas Media, for RedCounty.com, for Townhall.com and now AmmoLand Shooting Sports News.
His southern drawl is frequently heard discussing his take on current events on radio shows like America's Morning News, the G. Gordon Liddy Show, the Ken Pittman Show, and the NRA's Cam & Company, among others. He was a Visiting Fellow at the Russell Kirk Center for Cultural Renewal (summer 2010), and he holds a PhD in military history from Texas Tech University.
If you have questions or comments, email him at [email protected] You can find him on facebook at www.facebook.com/awr.hawkins.