Invites All Gubernatorial Candidates To Gun Roundtable.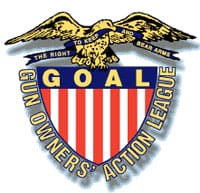 BOSTON –-(Ammoland.com)- Today, Jim Wallace of GOAL, on the steps of the Massachusetts State House, debated gubernatorial candidate Steve Grossman on gun policy.
Wallace emphasized the plight of law-abiding gun owners who feel persecuted under the current Massachusetts laws and the abject failure of the current laws to reduce crime.
The two debated over gun policies proposed by Governor Patrick and others including the Governor's One Gun A Month policy and Attorney General candidate Warren Tolman's requiring supposed "smart technology" on all firearms sold in Massachusetts.
"These candidates need to realize the failure of gun control in MA," said Jim Wallace, GOAL's Executive Director. "What we need to do is stop dividing ourselves on useless policies and join together to find a way to stop the criminals from trafficking guns like our legislation, H. 3264, The Civil Rights and Public Safety Act.
GOAL invites all gubernatorial candidates to a roundtable discussion on guns and gun policy. There are 350,000 license gun owners in this state and they have questions about their rights."
About:
Gun Owners' Action League is the official state firearms association in Massachusetts. We are an association of law-abiding citizens who believe in the basic right of firearms ownership for competition, recreation and self-protection. GOAL works hard to defend the Constitution and the Bill of Rights against those in Massachusetts who wish to infringe upon the freedoms guaranteed by our forefathers. The programs sponsored and developed by Gun Owners' Action League are supported by competitors, sportsmen, recreational shooters and law enforcement throughout the state. We were formed in 1974 to protect the right to keep and bear arms for lawful purposes in the Commonwealth of Massachusetts. We are recognized as the state's premier gun rights association. www.goal.org