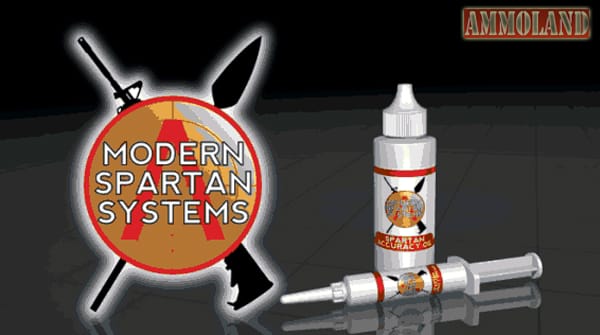 Suwanee, GA. -(Ammoland.com)– Modern Spartan Systems LLC., manufacturer of today's most technologically advanced firearms cleaners and lubricants, now offers complete Starter-Kits consisting of all four recently introduced Spartan products, and the Starter-Kit PLUS, which also includes Accuracy Grease.
The combination of products form a complete "system" designed to "optimize" the performance of any platform.
From handguns and ARs to shotguns, rifles and muzzleloaders, the formulas in the Spartan "Starter-Kit" and "Starter-Kit PLUS" will not only clean and protect your investment, they are proven to literally improve functionality, accuracy, reliability and will extend the overall life of your firearms and optics.
All Modern Spartan Systems products are easy to use, safe for the environment, nose-friendly and are 100% made in the USA!
Modern Spartan Systems has a generous test and evaluation program in place for members of the professional media. All media inquiries should be directed to Driftwood Media, Inc.
Spartan Starter-Kit includes:
Spartan Accuracy Oil – Fighting the battle against Friction
• Improved shooting consistency & accuracy (lowers standard deviation & spread rate)
• Fewer malfunctions and more reliable performance
• Reduced gumming of sand and dirt
• Flawless performance in Middle-East heat 115°+ to Alaska lows -58°
• Superior corrosion protection
• Increased muzzle velocity
• Smoother overall action
• Lower barrel temperatures (up to 30%+ )
• Easier and faster cleaning (50-75% less clean-up time due to minimal carbon buildup)
• Reduced maintenance costs (lower wear and tear on components)
• Restores surface metal imperfections and extends barrel life
Spartan Carbon Destroyer
• Exceptional Cleaning Performance
• Works on Natural & Synthetic Compounds
• Removes tar and cosmoline
• Non-Toxic
• Wide Material Compatibility
• Biodegradable
• Low Volatile Organic Compounds (VOCs)
• No Flash Point to Boiling
• Excellent in ultrasonic cleaners (no heat needed)
• Rinses Easily with Water
Spartan Copper/Lead Destroyer
• Designed to remove copper, lead & chlorides
• Safe on all metals, won't etch or pit barrels
• Powerful & fast acting – works in minutes
• Easy to use – contains a blue copper indicator
• "Nose" friendly – no VOCs (makes people smile)
Spartan Crystal Clear
• Gentle on optics, but powerful and effective cleaner
• Will not build up or discolor surfaces
• HD refractory properties
• Excellent Anti-fogging capabilities
• Anti-oxidation & anti-static protection
• No ammonia or petrochemicals
• Safe and effective at cleaning on all surfaces
Spartan Starter-Kit PLUS also includes
Spartan Accuracy Grease
• Overall smoother operation
• Fewer malfunctions and more reliable performance
• Excellent Corrosion protection
• Unaffected by temperature (Middle East highs of 115F to Alaska lows of-52F)
• Easier and faster cleaning (50-75% less clean-up time)
• Reduced costs (a little goes a long way)
• Restores surface metal imperfections
• No ethers, graphite, Teflon, zinc, flouropolymers or molys
About Modern Spartan Systems
Modern Spartan Systems (MSS) was founded in 2013 by a 14-year military veteran with a defense contracting background, an accomplished businessman with an exceptional eye for spotting little known superior technologies, and a successful, well-respected retail entrepreneur. Combined, they are bringing the tactical, shooting and hunting communities a line of weapons cleaners and lubricants proven to far surpass its competition.