By AWR Hawkins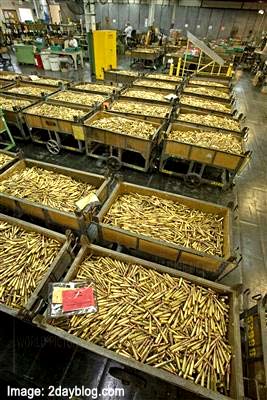 Washington DC – -(Ammoland.com)- The Pentagon plans to destroy $1.2 billion in ammunition amid widespread ammo shortages for private citizens.
According to a Government Accountability Office (GAO) report acquired by USA Today, the ammunition is being destroyed because the Pentagon does not know what ammunition is new and viable and what is not. This is due to the fact that "the Defense Department's inventory systems can't share data effectively," leading to "an inaccurate accounting of ammunition."
Homeland Security and Governmental Affairs Committee chairman Senator Tom Carper (D-DE) said, "There is a huge opportunity to save millions, if not billions of dollars if the (Pentagon) can make some commonsense improvements to how it manages ammunition."
Question: If portions of the ammunition are in a caliber popular in the civilian market, why can the ammo not be sold at a reduced price, as is, to private citizens who are told beforehand that some of it may unknowingly be outdated?
In this way the Pentagon could recoup a hefty portion of the $1.2 billion it is preparing to throw away and law abiding citizens could get their hands on some of the very ammunition they can no longer find on store shelves.
Follow AWR Hawkins on Twitter @AWRHawkins  
About:
AWR Hawkins writes for all the BIG sites, for Pajamas Media, for RedCounty.com, for Townhall.com and now AmmoLand Shooting Sports News.
His southern drawl is frequently heard discussing his take on current events on radio shows like America's Morning News, the G. Gordon Liddy Show, the Ken Pittman Show, and the NRA's Cam & Company, among others. He was a Visiting Fellow at the Russell Kirk Center for Cultural Renewal (summer 2010), and he holds a PhD in military history from Texas Tech University.
If you have questions or comments, email him at [email protected] You can find him on facebook at www.facebook.com/awr.hawkins.