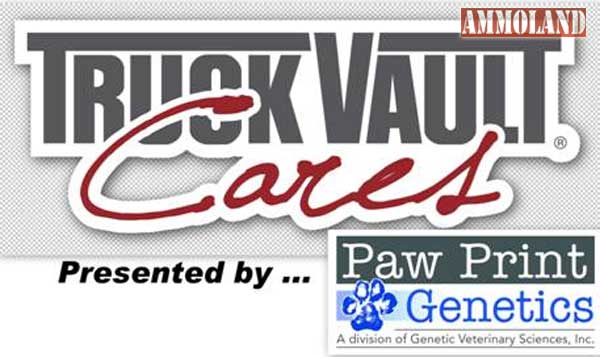 South Dakota –-(Ammoland.com)- Reflecting the title sponsor's growing role in public safety, the National Police Dog Foundation has been chosen as the final beneficiary group in the 2014 "TruckVault Cares … for conservation, canines & kids, presented by Paw Print Genetics" public service initiative.
Along with the five groups announced earlier, NPDF will see national exposure on the Wingshooting USA television program, online and social media marketing, print advertising in each others' publications, and cross-promotion with partner groups. Each will receive a share of the $10,000 funding pool based on total votes tallied.
"Recent news highlights the loyalty and dedication police dogs have to their handlers and their job," said Wingshooting USA creator/host Scott Linden. "Like their human counterparts, they put their lives on the line every day and deserve a safe professional life and secure retirement … something TruckVault Cares can help ensure."
The campaign spotlight will be shared by USA Shooting, training and sanctioning organization for U.S. Olympic and Paralympic shooting sports, Quail and Upland Wildlife Foundation provides funding and manpower for on-the-ground projects, Theodore Roosevelt Conservation Partnership's primary goal is to ensure public access to public lands, Farmers and Hunters Feeding the Hungry funds processing and facilitates hunter donations of meat to needy families, German Shorthair Club of America's dog rescue effort finds new homes for lost and abandoned hunting dogs, and the National Police Dog Foundation, which buys, trains, and cares for active and retired law enforcement canines.
Beginning July 1, anyone can vote daily at www.truckvault.com/truckvaultcares and the TruckVault Facebook page. Voters are eligible for prizes throughout the campaign, which ends December 31, 2014, when a $5,000 prize package is awarded. Wingshooting USA TV also awards a $10,000 funding package proportionally to each group based on the number of votes it receives.
Additional sponsors for TruckVault Cares … for conservation, canines & kids … presented by Paw Print Genetics" include title sponsor TruckVault, Happy Jack dog care products, Filson apparel, Fiocchi ammunition, Pursuit Channel, Linden's Signature Series of dog gear, SportDOG, and O.F. Mossberg & Sons.
The most-watched upland bird hunting show on television, Wingshooting USA is the official TV series of the National Shooting Sports Foundation. It airs on seven networks, including Discovery's Destination America starting in July.
The Upland Nation Index surveyed 1,700 viewers of the Wingshooting USA television program in early January, 2013. The margin for error is plus or minus five percent. Wingshooting USA is the most-watched upland bird hunting show in the U.S., airing on seven networks including a debut on Discovery Channel's Destination America this summer. It is the official TV series of the National Shooting Sports Foundation. Visit: www.scottlindenoutdoors.com