Beyond any gun case exterior, its interior is key to protecting, securing valued firearms and accessories.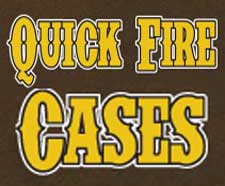 Murrieta, CA – -(Ammoland.com)- Whether gun owners are going to the range, outdoors or traveling, most seeking to protect their firearms investment look for a strong, durable, portable outer gun case.
Far fewer, however, look beyond the gun case's exterior to examine its interior, which is in many ways even more important to protecting and securing valued firearms and accessories, according to Thomas Buck, a longtime gun collector, gunsmith, law enforcement firearm instructor, former gun store owner, and President of Tampa, Fla.-based Clenzoil, which has been used worldwide by hunters, outdoorsmen, military and law enforcement for over 60 years as a metal cleaner, lubricant and protector/rust-inhibitor.
The Gun Case Interior
According to Buck, most gun owners underestimate the importance of the gun case interior, which is the only part that actually touches their firearms and should fit them to offer full protection and function.
"In the same way that gun owners' shoes fit their feet, their gloves fit their hands, and their guns fit their holsters, gun cases should fit their guns," says Buck.
Unfortunately, the industry typically 'sandwiches' the gun between two pieces of foam within the gun case, which offers a number of disadvantages. According to Buck, the main type of foam used in gun case interiors is an open-celled variety that "soaks up humidity and moisture like a sponge."
"When humidity, moisture, or even a solvent gets absorbed by typical gun case open-celled foam interiors, they're compressed against the gun, which can cause corrosion, blotching, or even imprint the foam's cell pattern onto the gun. This is particularly true if the gun case is used for long-term storage or the gun uses natural materials like wood or ivory handles."
Because 'sandwiching' the gun between two pieces of foam relies on compression, such foam tends to 'stretch out of shape' when a big gun like a .44 Magnum is carried, thus allowing a smaller gun like a .38 Special to slide around, banging into other guns or items carried, according to Buck. Such foam also tends to wear out, particularly at contact points, making the carrying of multiple guns in one case ill-advised since they are liable to strike or mar each other, or even "pop" the case hinge or lock if the case is dropped.
According to Buck, the industry tried to compensate for these deficiencies with generic cut outs, but these have their own problems.
"Trying to fit firearms of difference sizes, shapes, and types into generic cut outs can be like trying to fit a square peg into a round hole," says Buck. "They tend to be either too tight or too loose, and without a secure fit they can move around in the case, as well as fail to be fully protected by the foam padding."
Buck resolved these issues when he turned to Quick Fire Cases, a Murrieta, Calif.-based manufacturer of custom handgun and rifle cases. The company die-cuts its foam inserts, which are designed to snuggly fit specific guns using a military-grade resilient, heavy-duty, micro closed-cell foam that resists moisture absorption. The interior foam is cut extra thick for high compression to ensure the firearms stay in place while soft-foam hollows completely encapsulate them for 360-degree protection.
"Unlike other gun cases I've used, the Quick Fire Cases cradle and protect my firearms so they don't slide, move, or bang around inside the case," says Buck. "The closed-cell foam inserts do not absorb moisture like typical open-cell foam inserts so I don't worry about corrosion, discoloration, or other humidity or moisture-related damage."
Other gun owners are finding similar results. In Mansfield, Tex., gun owner Gary Kleinjan wanted to protect his AR15 better than typical gun cases that "sandwich" the weapon between two pieces of foam, or use generic cut outs that allow movement within the case. He also wanted to protect the AR15 from high Texas humidity.
Kleinjan turned to a custom fitted case from Quick Fire Cases with an airtight, watertight, dustproof seal and an automatic pressure purge system.
"I know my AR15 will be fully protected from drops, travel damage, even humidity," says Kleinjan. "My gun case's interior was just as important to me as its exterior, if not more so, and I'm more than satisfied with the results."
When gun owners want to shoot different guns at the range, they typically have to carry them in separate cases, and carry needed accessories in a separate range bag. But this can be heavy, cumbersome, and difficult to keep track of. One advantage of the custom fit gun cases Buck uses is that some with a MultiFit design can carry multiple guns, fitting up to 50 pistol types, using accompanying filler inserts to ensure the cut outs properly cradle them.
"With a MultiFit gun case design, I can use a small filler insert to modify the cut out so it fits my Glock's square trigger guard and Springfield 1911's round trigger guard like a glove," says Buck. "I can modify any differences in pistol handles or barrels the same way."
Shooting Accessories
Buck also appreciates how the cut outs allow him to carry a variety of shooting accessories from ammunition, magazines, eye protection, ear protection, gun cleaner, and even a tactical light in the same case.
"I use the cut outs for inventory control," says Buck. "Before I leave home I inventory the accessories I've stored in the cut outs," he says. "Before leaving the range, I do a quick visual check of the cut outs to confirm they are occupied which allows me to make sure I've left nothing behind!"
Making it easier to carry guns and shooting accessories to the range is also on the mind of other gun aficionados.
Jeff Travers, a gun owner living in Chino Hills, Calif., used to take four different gun cases and a separate accessories bag with him whenever he wanted to shoot his Springfield M1911 45, Sig Sauer P266, Springfield XD9, and Bursa 380 pistols.
"I had too many gun cases to effectively manage with two hands," says Travers. "I also had to bring a separate gym bag filled with shooting accessories."
When Travers turned to a range case holding up to four pistols, plus accessories, from Quick Fire Cases, he was able to securely transport everything he needed to shoot in a single gun case. "It keeps everything safe, clean, and organized. It's particularly helpful when I go to shooting competitions."
For more info, call 800-819-4245; visit www.quickfirecases.com; or write to Quick Fire Cases at 41187 Sandalwood Circle, Murrieta, CA 92562.