Nitromid polymer case with stainless steel core provides ultimate scratch and impact resistance without sacrificing strength or watertight capabilities.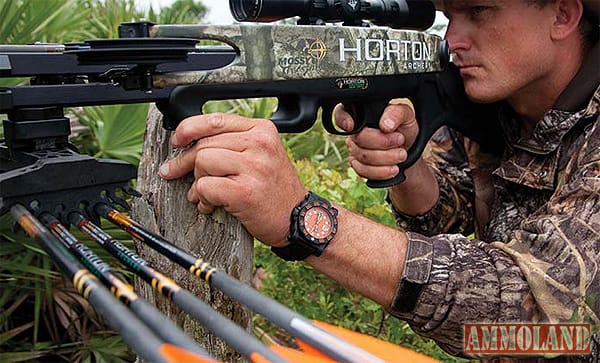 Agoura Hills, CA –-(Ammoland.com)- REACTOR, maker of the worlds' most durable and progressive sport watches, is introducing the Gryphon, its toughest tactical watch ever created.
The Gryphon is a hybrid watch combining a space age Nitromid cover, a glass-reinforced polymer with a tensile strength higher than steel, and a stainless steel core.
The result is a watch with improved durability and impact resistance that has the watertight capabilities of a fully stainless steel version at half the weight.
The Gryphon Watch ( https://tiny.cc/ljz7fx )  has a 42mm case, 10-year lithium power cell, quartz movement and is depth tested to 200M. Designed to block the watchband from absorbing odor and dirt while increasing comfort, the Gryphon strap is nylon webbing co-molded with REACTOR's proprietary silicone and natural rubber compound. This unique blend of materials mounted around a stainless steel tube with a solid stainless steel screw bar creates a watchband rated to over 200KG. The Gryphon also has REACTOR's patented Never Dark illumination technology.
Never Dark is the first technology to combine the intense brightness of Superluminova with the multi-year longevity of tritium, providing optimal illumination under all lighting conditions.
Because it can take up to 30 minutes for the human eye to fully adjust to the dark, Superluminova's intense peak brightness makes a Never Dark watch easily visible during that initial adjustment period.
In situations where the watch will remain in the dark for many hours, the tritium will remain visible for years, even if the watch is never returned to the light.
The Gryphon is built on the REACTOR DNA platform. REACTOR was designed from day one to be the best built performance sport watch. Every REACTOR has a solid forged 316L stainless steel or Titanium case and case back and all bracelets are solid link construction.
Additionally, every REACTOR has solid screw bars for strength, free floating lugs for ultimate comfort, screw down crowns and a proprietary application of true Swiss Superluminova.
The Gryphon is available in black, blue, orange, red, flat dark earth and urban camo dial colors with a coordinating co-molded band. The Gryphon has an MSRP of $350.
Shop for the REACTOR Gryphon Hybrid Watch on Amazon:  https://tiny.cc/ljz7fx
For more information or to find a local retailer, visit: www.reactorwatch.com/reactor_gryphon.html.
About REACTOR
Unique styling and an uncompromising commitment to quality are what set REACTOR WATCH apart from the crowded watch market. Founded in 2003 by veteran sport watch guru Jimmy Olmes, REACTOR's goal is to make "the best performance sport watch… period". Every REACTOR model is built to meet and exceed demanding Swiss standards while offering an unprecedented value in fine watches.