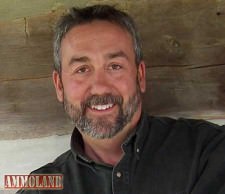 SACRAMENTO, Cal. (May 19, 2014)– Scott Leysath, host of the "The Sporting Chef" TV series, is now a weekly contributing author on Winchester's Whitetail Blog.
Leysath will pen a weekly blog every Friday on cooking tips and techniques, field care and making the best of any cut of venison in the freezer.
Leysath's latest entries are found here: http://whitetail.winchester.com/2014/cooking-wild-game-fast-or-slow/
"I enjoy creating new ways to cook with venison and teaching folks how to make it taste superior to any other meat they've cooked in the past – because it can be done," commented Leysath. "Winchester has a great lineup of whitetail experts on their staff and I'm proud they selected me to help people make the most of their game meat."
Leysath recently released his latest cookbook "The Sporting Chef's Better Venison Cookbook" now available at Amazon and other fine retailers. To order a copy, visit here: http://tiny.cc/7zs4fx
Veteran wild game chef and TV host, Scott Leysath, knows that sport fish and wild game can not only taste good, but great. "The Sporting Chef" TV show hosts a collaborative group of professional chefs, home chefs, cookbook authors and outdoor experts who have joined forces to help anyone prepare better fish and game dishes. Whether cooking at home or in the woods, each week is loaded with information from a cast of characters ranging from award-winning chefs to down home rednecks who know the way to catfish deliciousness.
Tune in to "The Sporting Chef " on Sportsman Channel Mondays at 9 a.m., Wednesday at 3 a.m. and Saturdays at 11:30 a.m. ET. Also available on Comcast Sportsnet in Chicago and Untamed Sports – check your local listings.
To learn more about The Sporting Chef TV, visit http://sportingchef.com and on Facebook at http://Facebook.com/TheSportingChef