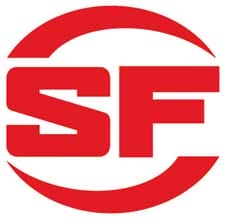 Fountain Valley, CA — -(Ammoland.com)- SureFire, LLC, manufacturer of high performance illumination tools, suppressors, and tactical products, has begun shipping its new SF Ryder Series Suppressors – debuting with the SF Ryder 22-A.
Built to the same exacting standards as the Fast-Attach models, this ultra-lightweight and rugged rimfire suppressor optimized for .22 caliber pistols and rifles, features patented red-hard-anodized pig-nosed baffles that ingeniously reduce muzzle blast and make for easy disassembly and cleaning.
"The SF Ryder Series is another example of SureFire's commitment to cutting edge design and exacting performance," said Lea Ramthun, SureFire's Director of Marketing.

"Its versatility, compact size, and ease of use and cleaning make it the perfect accessory for any .22 sportsman." 
The SF Ryder 22 features a unique pig-nosed baffle design that provides superior sound attenuation while still making it easy to service.  Each baffle is Red Mil-Spec hard anodized to minimize finish erosion and makes carbon buildup easier to spot when cleaning. Built-in spacers also help reduce carbon buildup between the suppressor tube and baffle stack, and each baffle is numbered and indexed to make re-assembly simple.
"If you've ever done much shooting with a .22 caliber suppressor, you know that the carbon and lead buildup can be a nightmare, sometimes serving to fuse the pieces together and requiring a mallet and elbow grease to disassemble." said Jeremy Stafford, Guns & Ammo contributor.

"This wasn't the case with the Ryder 22, as it seamlessly came apart even after exceeding the normal cleaning interval."
The ultra lightweight SF Ryder comes in at a mere 3.1 ounces due to its fluted body design and rounded edges­. A stainless steel threaded interface ensures the Ryder removes as a single unit, and its single–point cut ½ x 28 threads provide a secure attachment to any .22 pistol or rifle with a ½ x 28 thread pitch. At only 5.4 inches in length, and 1 inch in diameter, the SF Ryder 22 will not weigh down or obstruct your sight picture.
The SF Ryder 22-A comes with an assembly/disassembly tool, and suppressor pouch. MSRP is $469 and is available for purchase through authorized SureFire Suppressor dealers. For complete product information visit https://www.surefire.com/sfryder22
About SureFire
Located in Fountain Valley, California, SureFire, LLC is the leading manufacturer of high performance flashlights, weapon-mounted lights, and other tactical equipment for those who go in harm's way, or anyone who demands the ultimate in quality, innovation, and performance. SureFire illumination tools are used by more SWAT teams and elite special operations groups than any other brand. SureFire is an ISO 9001:2000-certified company.
Features and Benefits:
• Patented Pig-Nosed baffles provide superior sound attenuation
• Built-in spacers help reduce carbon buildup between baffles
Baffles are numbered & indexed for foolproof re-assembly
Red Mil-Spec anodizing makes cleaning baffles easier & helps prevent finish erosion
Rounded ends and fluted body design reduce weight with no sacrifice in strength
Included assembly/disassembly tool for easy baffle removal
Stainless-steel back plate ensures suppressor removes as a single unit; single-point cut 1/2 X 28 threads provide secure attachment