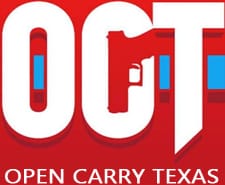 Texas – -(Ammoland.com)- Open carry advocates legally exercising their right to keep and bear arms made news last week in Fort Worth. Several media agencies immediately reported the presence of armed individuals at the Jack In The Box resulted in employees "locking themselves inside a freezer for protection out of fear the rifle-carrying men would rob them."
Open Carry Texas reached out to the Fort Worth Police Department and Jack In The Box headquarters to verify this report. While Fort Worth Police Department has failed to explain their statement to the media, Jack In The Box Director of Asset Protection Gene James made the following statement:
"What I can raise my hand on and swear to an oath is that what I was told by my employees is that they did not seek refuge in the freezer. On its face, the freezer thing make no sense."
Open Carry Texas obtained a copy of the 911 call that resulted in no less than nine patrol cars and 15 officers arriving on scene. The 911 call was not made by an employee or customer inside the Jack In The Box, but by a passerby leaving a nearby Home Depot. He reported seeing armed demonstrators walking "towards" the restaurant.
"It looks I like I seen[sic] four Caucasian or white men walking towards the Jack In The Box located off the highway, uh, walking with assault assault rifles and cameras just walking casually through the parking lot."

The caller later stated, "they're all wearing, you know, three of them are wearing shorts. They just, you know, dressed casually walking around casually with what looked like assault rifles."
Open Carry Texas will be releasing the 911 audio once we have been able to edit out personal identifying information later today.
This is the ONLY 911 call that was made about the open carry rally at the Jack In The Box. Notice that it wasn't made by an employee who was so "terrified causing them to hide in a freezer."
The lies of #guncontrolbullies are coming unraveled piece by piece, but the Fort Worth Police Department still owe the public, media, Open Carry Texas and Open Carry Tarrant County members an apology or explanation.
Note: the only thing edited out of this video is the audio of personal identifying information of the caller. https://www.youtube.com/watch?v=JRaYd7rxfqg