Distributed by Eagle Imports, the Metro Arms American Classic II 1911 style pistol embodies handcrafted style that won't burn a hole in your wallet.
Wanamassa, NJ (Ammoland.com) – Eagle Imports, Inc., the exclusive distributor of Metro Arms, Bersa and Comanche firearms products, believes that price should not dictate pistol quality.
Case in point: the Metro Arms American Classic II 1911 style pistol, designed to be accurate right out of the box, yet featuring details and styling only found on high priced pistols.
The American Classic II is a single-action, 1911 style pistol available in both .45 ACP and 9mm.
Constructed of 4140 alloy steel, it is tougher than conventional carbon steels and more resistant to corrosion. Instead of a standard trigger, Metro Arms smoothly finishes a combat trigger to eliminate any hard edges.
The skeletonized combat hammer provides fast lock time and allows for easy slide/hammer clearance.
Although the American Classic II will make a fine carry pistol, it was designed with competition looks and function with an extended slide stop, flared ejection port, beavertail grip safety, an extended thumb safety and a throated forged steel barrel.
The sights include a dovetail front sight and a Novak-style rear sight for snag-free holstering. Diamond cut, checkered hard wood grips and front and rear slide serrations provide a positive grip whether in competition or self-defense.
The Metro Arms American Classic II 1911 style pistol is available in three finishes: a deep blue, a hard chrome finish and a duo-tone with deep blue frame and hard chrome slide.
MSRP starts at $609.00.
For more information on the Metro Arms American Classic II visit www.metroarms.com or contact your favorite firearms retailer today to see one in person.
Metro Arms American Classic II 1911 Specifications:
Caliber:                                   .45 ACP, 9mm
Action:                                       Single
Overall Length:                       8.375"
Barrel Length:                         5"
Height:                                      5.5"
Width:                                      1.25"
Weight (empty):                     37.28 oz.
Frame material:                      4140 Steel
Slide material:                         4140 Hammer Forged Steel
Sights:                                      Dovetail Front and Novak-Style Rear Sight
Magazine:                                8-rd/9rd Magazine w/ Bumper Pad
Grips:                                       Checkered Hard Wood Grip with Diamond Cut
Finish .45 ACP:                       Deep Blue, Hard Chrome, Duo-Tone
Finish 9mm:                            Deep Blue
MSRP:                                      $609.00 – $699.00
About Metro Arms Corporation: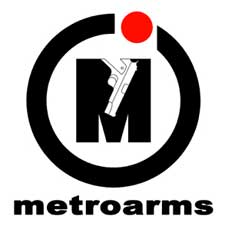 Metro Arms Corporation is the result of the combined passion for excellence in firearms manufacturing and the uncompromising pursuit to bring firearms of quality and value to the American market. Pistol lines include American Classic, MAC, and SPS. For more information, visit www.metroarms.com.
About Eagle Imports:
Founded in 1988, Eagle Imports is proud of its history and tradition of being an exclusive firearms distributor in the United States. Eagle is committed to fulfilling Bersa, Metro Arms and Comanche's mission in the USA and for providing the ultimate after-sale experience for all of their products. www.eagleimportsinc.com