The adventure equipment company adds two American-made, military grade knives to its line of high-end outdoor gear.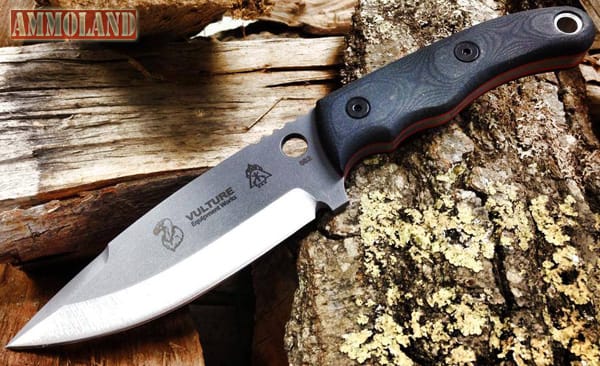 Oak Brook, IL –-(Ammoland.com)- Vulture Equipment Works, the manufacturer of American-made high-end adventure and imaging equipment, is announcing the official launch of its new collection of specialty knives.
Made in the U.S.A., the Cholera Mk1 and Talon Mk1 will be available for purchase on May 12, 2014 on the company's website, www.VultureEquipmentWorks.com.
William Egbert Jr., founder and lead designer of Vulture Equipment Works, launched the company in 2012 with a top-quality adventure camera strap geared towards the risk-taking photographer. Vulture Equipment Works stands out by offering a variety of high-caliber outdoor equipment, while similar brands specialize only in camera straps and products alike. The specialty knives are the newest Vulture product available for sale, and feature two different styles and two different grades.
The knife collection includes the Production Grade Cholera and Talon knives, both intended to transfer as much energy to the edge as possible.
"Design inspiration came from several things," says Egbert Jr., "but mostly my need and desire for a blade that was cut to do real-world work; each blade conforms to the basic anatomy and physiology principles of the human hand. The knives are made to stand the test of time and use, which is why we only use the highest grade military materials available."
The Cholera Mk1's blade design is intended as an "all mountain" knife and is a modified Gyuto style, a Japanese term meaning "meat sword." The Talon Mk1 is designed for tactical use and has a modified spear-tip design. This saber-grind blade also features a tapered handle profile. Both knives are production made, out of 1095 high carbon steel.
The Cholera Mk1 is also available in an Investment Grade, featuring the same basic profile as the Production Grade, but is one-inch longer overall and completely handmade out of 01 tool steel. The process to make the Investment Grade Cholera Mk1 is intricate, and the variation is intended for the collector or hunter who is looking for a true keepsake and understands the real value in blade culture.
Along with the Cholera Mk1 and Talon Mk1, Egbert Jr. is prepping additional knives to add to the collection. Prototypes of a machete and a hatchet/tomahawk hybrid are already in the process of being cut, along with five other designs that are still in the field-testing phase. These additions are set to launch in 2015.
The Production Grade Cholera Mk1 and Talon Mk1 are available for purchase online at www.VultureEquipmentWorks.com for under $200 each. The blades will also be sold at select retailers in late summer 2014.
For more information about Vulture Equipment Works, please visit www.vultureequipmentworks.com.