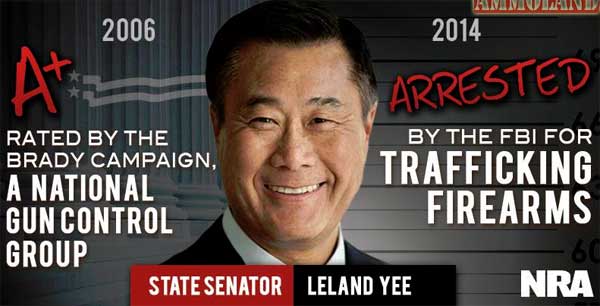 Charlotte, NC –-(Ammoland.com)-On Tuesday, over 287,000 Californians cast their votes for San Francisco-area State Sen. Leland Yee in the Democratic Party's Secretary of State primary election.
You might recall Sen. Yee is a long-time anti-gunner and, in 2006, received an "A+" rating from the Brady Campaign and was named to the group's so-called "Gun Violence Prevention Honor Roll."
The strange thing here is not just that Yee is currently under federal indictment on arms smuggling charges (no doubt his supporters would say he is still entitled to the presumption of innocence). The votes for Yee are even more curious considering he dropped out of the race in March.
Then again, maybe we shouldn't be surprised. Gun control supporters who vote for anti-gun politicians like Yee are notorious for forming their opinions on the basis of little or no factual information. Others may be so committed to their anti-gun agenda that even the facts that are brought to their attention no longer matter.
Whatever else can be said for the motives of these voters, their uninformed behavior should serve as a warning.
Those who still cast their ballots for pro-freedom candidates had better show up in force this November or face the prospect of even more fact-free governance.
About:
Established in 1975, the Institute for Legislative Action (ILA) is the "lobbying" arm of the National Rifle Association of America. ILA is responsible for preserving the right of all law-abiding individuals in the legislative, political, and legal arenas, to purchase, possess and use firearms for legitimate purposes as guaranteed by the Second Amendment to the U.S. Constitution. Visit: www.nra.org