Local conservation groups to benefit from Bass Pro Shops Outpost opening in Anchorage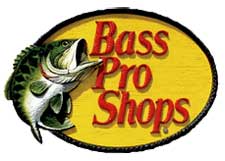 Anchorage, AK -(Ammoland.com)- An all-star cast that reads like a 'who's who' in the world of sports, entertainment and the great outdoors joins together to help Bass Pro Shops celebrate a spectacular Evening for Conservation, Wednesday, July 9, at 6 p.m. at the new Bass Pro Shops Anchorage Outpost.
The event will kick off the store's grand opening celebration that will continue through Sunday, July 13.
Celebrities scheduled to appear and sign autographs July 9 include:
Author and founding musher of the first Iditarod (1973), writer/director of "Sourdough" movie, Rod Perry
Discovery Channel's "Deadliest Catch" cast member, Captain Sig Hansen
Television show host, film star, USMC veteran aka "The Gunny," R. Lee Ermey
RedHead pro hunting team member, Bob Foulkrod
2014 Miss Alaska USA, Kendall Bautista
Host of "Jimmy Houston Outdoors" television show, Jimmy Houston
RedHead pro hunting team member and host of "Bass Pro Shops Outdoor World" radio show, Rob Keck
Former Professional Bull Rider World Final Champion, Luke Snyder
America's Billiards star, "The Black Widow," Jeanette Lee
Under Armour arsenal hunter, Cameron Hanes
Legendary angler and television host Jimmy Houston, of "Jimmy Houston Outdoors" will serve as emcee for the event. A color guard presentation will be made by the National Guard.
Musical entertainment for the evening will be provided by "Ken Peltier Band." The Alaska Aces will be represented at the event with an appearance by their mascot, Kodi. In addition, visitors will have the opportunity to meet Alaskan muralist Susan Watkins.
Located at 3046 Mountain View Drive in Anchorage, the 80,000-square-foot store will officially open its doors for a preview celebration during the fundraising event and ribbon-cutting ceremony Wednesday, July 9 from 6:30 p.m. to 10 p.m. The event is free and open to the public.
For every dollar spent during the Evening for Conservation, 50 cents will be donated to the Outdoor Heritage Foundation of Alaska, Alaska Wildlife Conservation Center's Wood Bison Reintroduction Project, Conservation Fund's Alaskan Salmon Habitat Initiative, and Alaska Fish and Wildlife Fund's Cook Inlet Initiative.
Local conservation groups and agencies on hand Wednesday evening will include the Safari Club International, Rocky Mountain Elk Foundation, Ducks Unlimited, Alaska Wildlife Conservation Center, National Rifle Association, and the Outdoor Heritage Foundation of Alaska. They will have booths and displays set up to create awareness about their ongoing efforts and local projects. In addition, the members of Safari Club International will be selling Coca-Cola products and hot dogs for $1 each at their booth. Monies collected for those sales will go directly to that conservation group.
Special guests and displays throughout the event include:
Rod Perry's Iditarod sled July 9.
Cameron Hanes Under Armour arsenal hunter, July 10, 10 a.m. – 1 p.m.
Bass Pro Shops/Daisy shooting range, July 10-13, 11 a.m. – 7 p.m.
Rocky McElveen, author, guide, master storyteller, July 11-12, 10 a.m.- noon, and 2 p.m. – 4 p.m.
Susan Watkins, Alaskan muralist, July 12, 1-3 p.m.
Bass Pro Shops, named as one of the "Top 10 Hottest Brands in America" by Advertising Age magazine, will continue to celebrate its 67th store's grand opening Thursday, July 10 through Sunday, July 13. The store will open at 8 a.m. Thursday and at 9 a.m. (normal opening hours) Friday and Saturday and 10 a.m. Sunday.
The celebration includes special exhibits, storewide savings on a huge assortment of products, and fantastic giveaways. Experts on fishing, hunting, boating and more will be available to talk with customers. In addition, factory representatives from the industry's top manufacturers will be on hand to answer new product questions.
Thursday, July 10 – First 200 customers 18 years of age or older will receive a Bass Pro Shops gift card ranging in value from $5 to $100 in a logo tin.
Friday, July 11 – First 200 customers will receive a Columbia Omni-Heat beanie.
Saturday, July 12 – First 200 customers will receive a commemorative Bass Pro Shops Yakima Bait lure keychain.
Sunday, July 13 – First 200 customers will receive a Bass Pro Shops Tervis Tumbler.
Visitors can also register to win a $50, $100 or a $200 gift card to be given away after the event.
The store offers the area's largest selection of quality gear for fishing, hunting, camping, boating and marine; all specifically selected for Alaskan needs. Bass Pro Shops also offers equipment for hiking, backpacking, outdoor cooking and more. Shoppers will find outdoor apparel for men, women and children along with a selection of outdoor, casual and athletic footwear. A gift and nature center includes a wide variety of outdoor-related items from lamps and dishes to bird feeders and furniture.
Known for providing a fun outdoor experience indoors, a typical Bass Pro Shops retail store features more than 3,500 antiques and artifacts, up to 400 trophy fish and wildlife mounts, and many murals depicting local scenes.
Free Bass Pro Shops outdoor skills workshops will be offered throughout the year on a regular basis and will include topics such as outdoor cooking, nature photography, fly fishing, camping, archery and more. Bass Pro Shops is widely recognized for their efforts in conservation and outdoor education.
Bass Pro Shops will host more than 116 million people visiting their 86 stores and Tracker Marine Centers across America and Canada this year. The average customer stays two and a half hours and drives an average distance of 50 plus miles. The company also has been named by J.D. Power & Associates as one of the top eight retailers in America for customer service excellence.
About Bass Pro Shops
Bass Pro Shops, which specializes in outdoor fun, operates 86 retail stores and Tracker Marine Centers across America and Canada that are visited by more than 116 million people every year. Bass Pro Shops stores, many of which feature restaurants, offer hunting, fishing, camping and other outdoor gear while their catalogs and website serve shoppers throughout the world. The company's Tracker Marine Group, which has produced the number one selling brand of fishing boats for more than 35 years, manufactures and sells a variety of boats for fishing and cruising. Family fun is on tap at Bass Pro Shops resort Big Cedar Lodge, voted number six by Travel + Leisure Magazine as World's Best Hotels for Families.