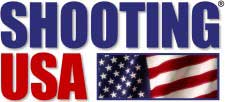 USA – -(Ammoland.com)- Shooting USA – IDPA Puerto Rico
It's an IDPA National Championship that feels more like a vacation. We're headed to Puerto Rico for competition in the Caribbean.
Then we're covering the NRA annual Meeting and New Product Show in Indianapolis, with 75,000 members gathering to support the NRA and the Second Amendment. Plus the story of the rare Ithaca Model 37 Trench Gun, that's now one of History's Guns. And Pro Shooter, Taran Butler, has a Pro Tip on setting up your shotgun to be more successful in 3-Gun Competition.
Shooting USA's Impossible Shots – Cisko's Split
Fast draw specialist Cisko tries splitting two playing cards in a row from the hip. Then Mr. Flintlock takes a tip from Jimmy Stewart and shoots targets through a washer. And we reprise the late Bob Munden's Classic Shot, opening a safety pin with a .45 caliber bullet.
AIR TIMES BY TIME ZONE
The Shooting USA Hour Wednesdays:
Eastern Time: 3:00 PM, 9:00 PM, 12:00 Midnight
Central Time: 2:00 PM, 8:00 PM, 11:00 PM
Mountain Time: 1:00 PM, 7:00 PM, 10:00 PM
Pacific Time: Noon, 6:00 PM, 9:00 PM

Shooting USA is listed as a one hour show in your cable menu.
Shooting USA's Impossible Shots:
Eastern Time: 2:00 PM, 5:30 PM, 10:30 PM
Central Time: 1:00 PM, 4:30 PM, 9:30 PM
Mountain Time: Noon, 3:30 PM, 8:30 PM
Pacific Time: 11:00 AM, 2:30 PM, 7:30 PM
Pro with the Bow:
Exhibition Archer Randy Oitker and his state-of-the-art hunting bow are in Tennessee this week to prove the "impossible" isn't for him. See what Randy can do as Mike Irvine challenges him with suggestions that seem impossible. Cutting multiple playing cards at once and 100-yard shots could be some of the challenges for the next series of Impossible Shots.
Garry's Collection:
Producer Mark Shafer and the team are in Montana this week taping another series of History's Guns Segments with our Firearms Historian Garry James. You'll see the results of that work on Shooting USA in the months ahead.
Are You Connected?
Be sure to "Like" the Shooting USA's Impossible Shots Show Page for some previews of Randy's shots:
https://www.facebook.com/ImpossibleShots?ref=hl
And The Shooting USA Show Page on Facebook will keep you briefed on what's happening this week.
https://www.facebook.com/JimScoutten.ShootingUSA?ref=br_tf
Jim Defending the 2nd by Example in the 21st Year
www.ShootingUSA.com