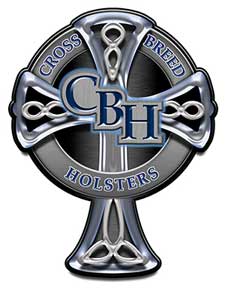 Republic, MO – -(Ammoland.com)- CrossBreed Holsters is pleased to announce that the United States Patent office has issued the Patent for the industry changing Supertuck.
This patent will include several other Inside the Waistband holsters crafted by CrossBreed Holsters including the MiniTuck, QwikClip, Appendix Carry and MicroClip.
CrossBreed Holsters continues the tradition and process of hand-molding and hand crafting by craftsmen personally trained by Mark. They continue to pass on these skills, tradition and attention to detail to the new generation of the craftsmen who have joined the company. Each holster that is crafted by CrossBreed is specifically made for the customer and is recognized by the personalization of their name being written on the back of the holster.
"Often Imitated but Never Duplicated" CrossBreed Holsters, especially the SuperTuck is the most imitated holster on the market today. CrossBreed Holsters also holds a patent for the Bedside Backup, a must have item for your home defense collection.
Over the years we have received many comments, questions and concerns about the way the SuperTuck has been attempted to be copied. We appreciate those concerns and assure you that they do not go unnoticed. We want to thank each and every customer we have and appreciate your continued support of CrossBreed Holsters.
The handcrafting of a CrossBreed holster is often imitated but never duplicated. From the hand-molded kydex pocket to the handcrafted leather backer with the "soft" side of the leather facing your body, you will find immediate comfort and stability right out of the package. Over time the holster forms to the individual body for a secure fit and unmatched comfort, truly becoming a custom holster for each individual.
Crossbreed Holsters, LLC was started in 2005 by Mark Craighead to bring all of the best holster features together in one product without any of the non-functional design elements found in many holsters on the market. Mark's new breed of holsters has grown into a company strong with integrity, craftsmanship and customer service, producing a quality line of all-American made holsters. To learn more about Crossbreed Holsters, LLC visit www.crossbreedholsters.com .