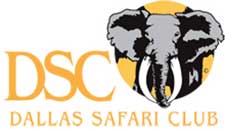 DALLAS –-(Ammoland.com)- With independent lawsuits predictably stalling and failing in court, the Dallas Safari Club (DSC) continues to pursue an aggressive but more cooperative approach to reversing a U.S. ban on importing ivory from lawfully hunted elephants from Tanzania and Zimbabwe in 2014.
Along with its partners, DSC is providing the U.S. Fish and Wildlife Service with the data it needs to assuage concerns about regulated elephant hunting in the two African nations.
For example, elephants in areas of Zimbabwe are severely overpopulated and destroying their habitat. Regulated hunting provides needed management. DSC is hopeful that this and other evidence will help the agency see that broad-brush actions such as nationwide bans have no basis in science or law and are bad public policy.
Combating criminal ivory traffickers by regulating legal hunter-conservationists, DSC officials say, is an ill-conceived, knee-jerk response by regulators or, more probably, politicians looking for photo-ops so they appear to be doing something about the abhorrent problem of elephant poaching.
"Regulating the lawful, in order to change the behavior of the unlawful, always fails," said Ben Carter, DSC executive director.

Carter added, "DSC considered legal remedies but concluded that suing the U.S. Fish and Wildlife Service is likely to be costly, slow and ultimately unsuccessful. Just as importantly, lawsuits can be counterproductive if they needlessly alienate those who otherwise are charged with the responsibility, and would cooperate, to resolve your issue."
However, others did institute legal action. The court denied the plaintiffs' motion for preliminary injunction against the ban. The entire lawsuit was not dismissed but is under advisement. If the case is allowed to move forward at all, it will drag out far more than a year – longer than the stated ban.
DSC believes the court's initial ruling validates the strategy of a diversified response from the hunter-conservationist community.
Along with providing the U.S. Fish and Wildlife Service with additional information, DSC is working to bring officials from Tanzania and Zimbabwe to the U.S. to testify about the harmful effects on wildlife and people of the elephant ivory ban.
DSC also is keeping Congress informed of the issues.
Carter said, "We believe in using scientific resources and data to prove that this arbitrary and capricious ban is actually hurting elephant conservation, not helping it. We continue to believe the ban should be, and will be, reversed as soon as possible."
Previous DSC statements and news releases concerning the ban are posted here.
About Dallas Safari Club (DSC)
Desert bighorns on an unbroken landscape, stalking Cape buffalo in heavy brush, students discovering conservation. DSC works to guarantee a future for all these and much more. An independent nonprofit organization since 1982, DSC has become an international leader in conserving wildlife and wilderness lands, educating youth and the general public, and promoting and protecting the rights and interests of hunters worldwide. Get involved at www.biggame.org