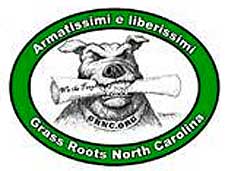 North Carolina –-(Ammoland.com)-As you've undoubtedly heard in prior Grass Roots North Carolina (GRNC) alerts, there's a bill working its way through the North Carolina Senate to repeal Durham County's Jim Crow-era firearms registry.
Enacted in 1935, the registry was a way for the sheriff to capriciously apply "gun control" to people based on their skin color. The blatantly racist gun registry in Durham County has long outlived its purpose and it needs to go.  Now!
And we need your help to encourage Thom Tillis to move this bill out of committee and onto the house floor where it can get the fair vote that North Carolinians deserve.
We first alerted you to this on May 14th 2014. The NRA, in their infinite wisdom, have finally come to the party to support the second amendment and released their own alert on June 10th 2014. What took them so long is anyone's guess, but we're glad that they've decided to do something to help the second amendment in North Carolina. We just hope that they don't take too much credit for a bill that Grassroots North Carolina has worked tirelessly to champion.
IMMEDIATE ACTION REQUIRED!
Phone Thom Tillis' office at 919-733-3451: Politely let Mr. Tillis know that Senate Bill 226 needs to be passed in this session. You may remind him that gun owners like yourself will remember his actions (or lack thereof) during his bid for the United States Senate this fall.
Email Thom Tillis at [email protected] Copy/paste the suggested message provided below.
DELIVER THIS MESSAGE
Suggested Subject: "Let's Move on Senate Bill 226 to Repeal Durham's Gun Registry"

Dear Representative Tillis:

As you're undoubtedly aware, Senate Bill 226 is much-needed legislation to bring Durham County's Jim Crow-era firearm registry to an end. A law with shameful roots and even more shameful longevity, it's time has long passed and North Carolinians are ready to have Durham County brought into the 21st century.

I urge you to move this bill onto the house floor where it can be voted into law immediately. North Carolinians of all ethnicities deserve no less.

I will continue to monitor this issue via alerts from Grass Roots North Carolina.

Respectfully,
Additional Skills Needed for the GRNC Alert Team:
A person is needed to expand the GRNC alert team. Good writing skills is a must along with the ability to coordinate with personnel at various levels. Knowledge of HTML and ability to manipulate HTML style emails on the code level. Strong understanding of desktop publishing concepts and Microsoft Office tools. Person should be able to translate legal, political, technical and firearms jargon into layman's terms and make the public care about the issue. Familiarity of a mass emailing system like Constant Contact is a nice to have.
If interested, please contact GRNC via the following e-mail address: [email protected]
About:Grass Roots North Carolina is an all-volunteer organization dedicated to preserving the freedoms guaranteed us by the Bill of Rights. Our main focus is the right to keep and bear arms. GRNC was central to drafting and passing North Carolina's concealed handgun law and since that time has continued to push for improvements to gun laws. Visit:www.grnc.org