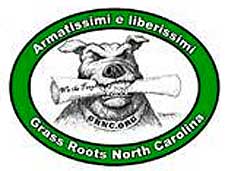 North Carolina –-(Ammoland.com)- Last week's legislative victory (North Carolina Senate Bill 226, "Repeal 1935 Durham Co. Firearm Act.") was a win for all North Carolinians.
A terrible vestige of Jim Crow-era laws and an affront to law-abiding North Carolinians, this law's time to go had long since passed.
Thanks to the hard work of Grass Roots North Carolina volunteers and its engaged members, the state legislature did the right thing.
But our work still isn't over. The Durham County Sheriff still has over eighty years of gun registration records in its possession. Gun registration records that now serve no legitimate purpose, and gun registration records that need to be destroyed. In fact, state law §14-409.40(b) states that "no county … shall regulate in any manner the … registration of firearms."
We urge ALL North Carolinians to contact the Durham County's Board of Commissioners and the Durham County Clerk of Superior Court to demand that these records be promptly and completely destroyed. Since these records can no longer be used in any way, keeping these records constitutes both a waste of Durham County taxpayers' money and a violation of their privacy.
IMMEDIATE ACTION REQUIRED!
Contact the Durham County Commissioners and the Durham County Clerk of Superior Court and send a clear message that they MUST instruct the sheriff to destroy the gun registration records.
Archie Smith, Clerk of Superior Court: [email protected]
DELIVER THIS MESSAGE
Suggested Subject: "It's Time to Delete Durham's Gun Registry Records!"
Dear Mr. Smith and Commissioners:

As you are undoubtedly aware, the recent passage of North Carolina Senate Bill 226 ("Repeal 1935 Durham Co. Firearm Act.") now makes it illegal for Durham County to maintain a registry of privately owned firearms in the county.

I am writing to insist that Durham County Clerk of Superior Court's office destroy the existing records immediately. These records now constitute an unlawful registry and an unwarranted intrusion into the privacy of citizens living in Durham County.

I will be monitoring this issue via alerts from Grass Roots North Carolina.

Respectfully,
Additional Skills Needed for the GRNC Alert Team:
A person is needed to expand the GRNC alert team. Good writing skills is a must along with the ability to coordinate with personnel at various levels. Knowledge of HTML and ability to manipulate HTML style emails on the code level. Strong understanding of desktop publishing concepts and Microsoft Office tools. Person should be able to translate legal, political, technical and firearms jargon into layman's terms and make the public care about the issue. Familiarity of a mass emailing system like Constant Contact is a nice to have.
If interested, please contact GRNC via the following e-mail address: [email protected]
About:Grass Roots North Carolina is an all-volunteer organization dedicated to preserving the freedoms guaranteed us by the Bill of Rights. Our main focus is the right to keep and bear arms. GRNC was central to drafting and passing North Carolina's concealed handgun law and since that time has continued to push for improvements to gun laws. Visit:www.grnc.org