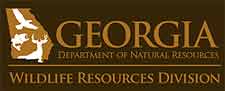 SOCIAL CIRCLE, Ga. –-(Ammoland.com)- The Nongame Conservation Section of the Georgia Department of Natural Resources is offering a $1,000 grant to a third-, fourth- or fifth-grade public or private school teacher in Georgia who demonstrates exceptional energy and innovation in teaching life sciences.
This opportunity is possible thanks to support from The Environmental Resource Network, or TERN, friends group of the Nongame Conservation Section.
Through education, research and management, the Nongame Conservation Section works to safeguard Georgia's native diversity of wild animals, plants and their habitats – while also striving to increase public enjoyment of the outdoors. The purpose of the grant is to recognize and help an outstanding teacher who uses Georgia's nongame wildlife as the context for learning third-, fourth- or fifth-grade curriculum standards, according to Linda May, DNR environmental outreach coordinator.
"Students who learn about plants, wildlife and habitats often develop an appreciation for these diverse natural resources and are then motivated to be good stewards of the environment – not just during childhood but also as adults," said May, who works with the Nongame Conservation Section.
Nongame wildlife refers to native animals that are not fished for or hunted and rare plants not harvested, such as gopher tortoises and Georgia aster.
Previous grant recipients fostered a love of Georgia's natural heritage and taught students how to contribute to healthy ecosystems through their everyday actions. For example, at Rocky Branch Elementary in Watkinsville, teacher Shawna Babin and third-graders explored soils, plant adaptations and habitat types using worm farms and greenhouses.
More recently, students at Whit Davis Elementary in Athens created Georgia-specific habitats with representative animals in aquariums for the school's science laboratory, all with guidance from science specialist Steven King and the University of Georgia's Warnell School of Forestry and Natural Resources. Students observed the aquarium activity and recorded findings in a journal and through videos broadcast on the school's district cable TV channel.
This fall, another teacher will be selected to receive funding based on project design and how well the grant proposal questions are answered. Projects that are especially creative and teach about Georgia's rare or endangered species, as well as those that can't be funded otherwise, will earn bonus points. See www.georgiawildlife.com/TeachingConservationGrant for details.
The deadline to apply is Sept. 15, 2014. DNR will notify the grant winner and award funding in October.
The Nongame Conservation Section is part of DNR's Georgia Wildlife Resources Division.
For more information about this DNR grant opportunity, please contact Linda May ([email protected], 706-557-3226) or Anna Yellin ([email protected], 706-557-3283).