All-New Season Premieres Wednesday, July 2 at 8:30 p.m. ET/PT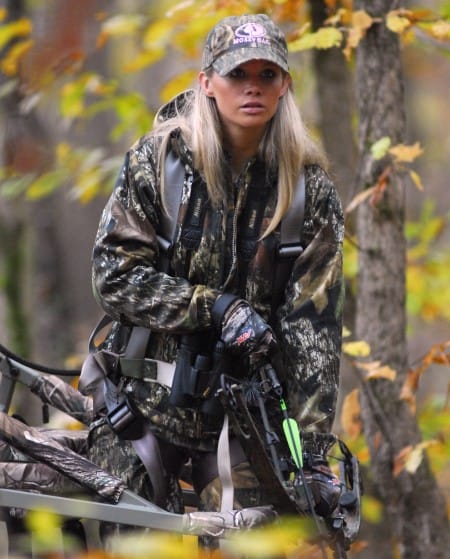 New Berlin, Wis. –(Ammoland.com)- Brittney Glaze, model and outdoor enthusiast, is set to join Lauren Rich for an all-new season of Sportsman Channel's Destination Whitetail, premiering July 2 at 8:30 p.m. ET/PT.
Glaze's professional career has her walking runways and gracing the pages of Maxim, but her passion for hunting has her gearing up in camouflage and taking on the great outdoors. Her modeling career began years ago, as did her love of the outdoors. Hosting is a completely new runway for Glaze, but she is ready to learn from the best while hunting many of the biggest North American whitetails.
"This is a great opportunity for me to get outdoors, and to learn a few things while I'm out in the woods," said Glaze. "Hosting is something I've never done before, but I'm up for a challenge and anything that gets me outdoors."
From hunting in the Hamptons to the rolling hills of North Dakota, this season of Destination Whitetail will showcase people, places and ways to hunt whitetail throughout North America. Destination Whitetail is a unique format that will entertain, as well as inform all deer hunters on how Glaze and Rich pursue whitetail across the country.
Tune in to Sportsman Channel's "Destination Whitetail" on Wednesdays at 8:30 p.m. ET/PT.
Learn about Destination Whitetail on Facebook https://www.facebook.com/DestinationWhitetai land online at http://www.thesportsmanchannel.com/shows/destination-whitetail/
About Sportsman Channel:Launched in 2003, Sportsman Channel/Sportsman HD is the only television and digital media company fully devoted to honoring a lifestyle that is celebrated by millions of Americans. The leader in outdoor television, Sportsman Channel delivers entertaining and informative programming that embraces outdoor adventure, hunting and fishing, and reveals it through unique, surprising and authentic storytelling. Sportsman Channel embraces the attitude of  "Red, Wild & Blue America" – where the American Spirit and Great Outdoors are celebrated in equal measure. The network also is dedicated to promoting our nation's military heroes and veterans, as well as providing a voice for conservation throughout the United States. Sportsman Channel reaches more than 36 million U.S. television households. Stay connected to Sportsman Channel online at www.thesportsmanchannel.com; Facebook, (facebook.com/sportsmanchannel); Twitter (twitter.com/SPORTSMANchnl and twitter.com/SportsmanPR) and YouTube (youtube.com/TheSportsmanChannel).