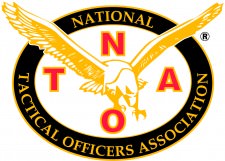 Doylestown, PA (Ammoland.com) – The National Tactical Officers Association (NTOA) has announced a Less-Lethal, FSDD and Chemical Agent Instructor Certification Track to be held during the 31st Annual Tactical Operations Conference & Trade Show,  September 21st – 26th, 2014 at the Arthur R. Outlaw Mobile Convention Center in Mobile, Alabama.
This 32-hour train-the-trainer course, taught by David Pearson, Fort Collins PD, is designed to familiarize students with less-lethal systems, chemical agents and flash / sound diversionary devices (FSDD).
This course will cover less-lethal philosophy, technology, injuries, tactical decision making and case law. Case studies are used to highlight different concepts and show some different practical applications of each tool. Less-lethal munitions, chemical agents and FSDDs from several manufacturers will be displayed and deployed on range days.
Students who have not received an approved Level 1, 2 or 3 chemical agent exposure to CS or OC will be required to have an exposure for completion of this course. A waiver is available to students who have already been exposed as many students will fall into that category. All students will be exposed to pyrotechnic CS for fit and evaluation of their chemical agent masks.
Please ensure you have the following equipment with you for the course:
Eye protection
Ear protection
Nomex gloves
Agency approved Air Purifying Respirator (APR) – Chemical Agent Mask
Appropriate clothing for classroom lecture
Appropriate clothing and inclement weather gear for range days
Change of clothes to wear after chemical contamination (if desired)
Tactical vest, helmet and other tactical gear not required
David Pearson is a Lieutenant with Fort Collins (CO) Police Services. He has been a police officer since 1990, starting with the Prince George's County (MD) Police Department. Lt. Pearson has been with Fort Collins Police since 1995.
He was promoted to Sergeant in 1998 and then to Lieutenant in 2011. Currently, he is the Professional Standards Lieutenant. As a Sergeant, Lt. Pearson supervised in the Traffic Unit, Patrol Division, Internal Affairs and Property Crimes Unit. Until his promotion, he held a collateral duty assignment as a team leader on the FCPS SWAT Team.
Lt. Pearson is an instructor for Mobile Field Force, Incident Command, Active Shooter and High-Risk Patrol Tactics. He has been an instructor with the NTOA since 2005. He currently instructs class in Less-Lethal technology, including FSDDs and chemical agent; Basic / Advanced SWAT tactics; Civil Disturbance; Active Shooter and the SWAT Team Leader Development course. Lt. Pearson is a Taser instructor, tactical firearms instructor and certified explosive breacher. Lt. Pearson has been awarded the Medal of Valor for actions in both patrol and SWAT. He also was awarded a Life-Saving Medal for actions during a major flood.
Registration for the 2014 NTOA Tactical Operations Conference and Trade Show is open to all active law enforcement officers. Active members of a state tactical association receive a $50 discount upon receipt of a state association ID via fax (215-230-7616) or email (laur[email protected]). Send six officers from the same agency or multi-jurisdictional team and the seventh officer's conference registration is free.
Register by July 31, 2014 to take advantage of the discounted registration fee. Registration fee includes practical tracks, seminars, vendor exhibition, SWAT Call Out Dinners and the annual Awards Banquet.
For more information on the National Tactical Officers Association visit www.ntoa.org or call 800-279-9127.
About the National Tactical Officers Association:
The National Tactical Officers Association operates with Veritas – truth, honesty and integrity – in all our relationships. www.ntoa.org