Draconian Ivory Ban Slips Through NJ Legislature.
WRITE or CALL Governor Christie TODAY!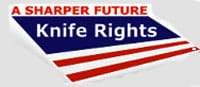 Gilbert, AZ –-(Ammoland.com)- In a move that caught just about everyone by surprise, last week the New Jersey legislature quietly passed S.2012/A.3128, a draconian total ivory ban bill with no exemptions for existing legal ivory and that even bans 10,000-year-old mammoth ivory.
This poorly drafted bill even opens the door to outright confiscation of ivory-handled knives and arrest of knife owners!
Knife Rights unequivocally supports legitimate efforts to stop the illegal slaughter of elephants in Africa, but this bill will not save a single elephant. Unfortunately, instead of going after poachers, smugglers and traders of illicit ivory, the New Jersey legislature has decided to launch an all-out attack on innocent New Jerseyans by passing an absurd TOTAL Ivory Ban that will not save a single living elephant.
Knife Rights has asked Gov. Christie to veto this irrational and very destructive bill. If you are a New Jersey resident or do business in New Jersey, WRITE or CALL the Governor TODAY and ask him to VETO S.2012/A.3128.
The NJ Ivory Ban Bill outlaws ALL ivory from ANY ANIMAL (elephant, hippo, mammoth, narwhal, walrus, whale, etc.). It makes it illegal to to import, sell, offer for sale, purchase, barter or possess with intent to sell (a intentionally vague term of law subject to abusive interpretation that could lead to knife confiscations and arrests) any ivory or ivory product with no exceptions for antique or heretofore legal ivory imported decades ago prior to the existing 24-year-old U.S. ban on ivory imports.
This ban would irreparably harm owners of ivory-handled and fossil ivory-handled knives, antiques, musical instruments and any items containing ivory legally imported into this country decades ago by stripping their value – a taking of millions of dollars from law-abiding New Jerseyans.
The ban would criminalize legitimate business owners and cause immediate ruinous financial loss for them. It will cost the state millions of dollars in tax revenue and not save a single living elephant!
This bill will not save a single elephant because study after study have shown no connection between the legal ivory market in decades-old ivory in the U.S. and poaching in Africa. International and U.S. studies document that virtually all the ivory poached in Africa goes to China where it is valued at 6 times the price of decades-old legal ivory in the U.S. Moreover, it is already a federal crime to import ivory into the U.S. and a crime to possess or sell illegally imported ivory.
This outrageous and draconian bill also represents an unconstitutional "taking" of protected private property, violating both the Fifth Amendment to the U.S. Constitution and Article 1, #1 and #20 of the N.J. Constitution. While lawsuits challenging this law, if signed, wend their way though the courts, untold hundreds or thousands of ivory owners will be arrested and prosecuted under this absurd law.
NOTHING IN THIS ABSURD BILL WILL SAVE A SINGLE ELEPHANT!
This is "feel good – do bad" legislation at its worst!
New Jersey residents and all who do business in New Jersey should WRITE or CALL the Governor TODAY and ask him to VETO S.2012/A.3128.
Email Governor Christie at: [email protected]
Call the Governor at: 609-292-6000
When you call or write, all you need to do is ask the Governor to VETO S.2012/A.3128, the ivory Ban Bill. If you'd like to write more, click here for Knife Rights' NJ Ivory Ban Model Letter to Gov. Christie.
About:
Knife Rights (www.KnifeRights.org) is America's Grassroots Knife Owners Organization, working towards a Sharper Future for all knife owners. Knife Rights is dedicated to providing knife owners an effective voice in public policy. Become a Knife Rights member and make a contribution to support the fight for your knife rights. Visit www.kniferights.org