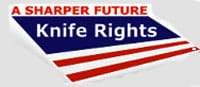 Gilbert, AZ –-(Ammoland.com)- On May, 19th 2014, the Ocean City, Maryland, City Council unanimously passed an "emergency" ordinance banning assisted openers at the request of Police Chief, Ross Buzzuro, who said, "in the best interest of public safety…we believe it will better serve not having them available in town."
The ordinance makes it "unlawful for any person to display, possess, sell, barter, offer to sell, distribute, manufacture, give away, transfer or dispose of an assisted opening knife…" adding the assisted openers to the beginning of a long list of outlawed items, including "fighting knives" and butterfly knives. All of which, by the way, are legal for possession and open carry under Maryland law.
And, just to make this ordinance all the more irrational and ridiculous, take note that it is both illegal to possess and illegal to sell, barter, offer to sell, give away, transfer or dispose of the named prohibited items. So, anyone in Ocean City who already owns an assisted-opening folder, and there are no doubt many who do as they are one of the most popular folders types on the market, cannot now avoid breaking the law in Ocean City. (Read the full article here.)
This situation in Ocean City is exactly why Knife Rights' priority legislative goal is passage of Knife Law Preemption.
Knife Law Preemption prevents local jurisdictions from enacting any law or ordinance more restrictive than state law. It eliminates and prevents a patchwork of local restrictions that serve only to trap unwary citizens.
Knife Rights passed the nation's first Knife Law Preemption bill in Arizona in 2010. Since then we have passed Knife law Preemption in Alaska, Georgia, Kansas, New Hampshire, Tennessee and Utah. Knife Rights currently has Knife Law Preemption bills running in South Carolina, Vermont and Virginia. In Oklahoma, Knife Rights' Knife Law Preemption bill was vetoed recently by Governor Mary Fallin after passing by overwhelming majorities in the House, 88-3, and in the Senate, 45-1, having been caught in a spat between the Governor and the Speaker of the House unrelated to our legislation. We'll be back next year to finish the job.
Knife Rights is rewriting knife law in America with your help. You can support the fight for a Sharper Future with a donation in the Ultimate Steel Spectacular and get your chance to win from over $125,000 in prizes. Please donate today!
About:
Knife Rights (www.KnifeRights.org) is America's Grassroots Knife Owners Organization, working towards a Sharper Future for all knife owners. Knife Rights is dedicated to providing knife owners an effective voice in public policy. Become a Knife Rights member and make a contribution to support the fight for your knife rights. Visit www.kniferights.org