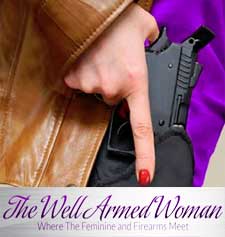 Scottsdale, Arizona – -(Ammoland.com)- Spring is in full swing, and with graduations, weddings, vacations and everything else happening in your life, I marvel at your energy!
What is most impressive is that even with all that you have going on, you make sure to prioritize your training and growth as women shooters.
When it comes right down to it, the better equipped you are to protect yourselves and those you love, the better you will be able to enjoy this gorgeous season and all of the activities that come along with it.
There is a wonderful sense of independence and confidence that arises when you go about your life knowing you are the best prepared you can be — you are alert and aware of your surroundings, watchful of things that look out of place, but relaxed and fully in the moment.
This is the healthy Level Yellow lifestyle.
The Level Yellow frame of mind isn't paranoid, but neither is it 'switched off'. It's that happy medium where you possess the knowledge and skills to be prepared for anything that comes your way, along with the peace of mind that allows you to enjoy your busy life.
Keep up the great job! Continue to read, think through scenarios, train and expand your knowledge of the firearms and self-defense laws in your area.
Being a Well Armed Woman means being well rounded in each of the many layers involved in your self-protection!
Proud to be your Sister In Arms, Carrie
About The Well Armed Woman:
The greater my interest and passion for guns grew, the more I found that the women I knew and worked with responded with excited curiosity to my new enthusiasm. Women wanted to know more and couldn't wait to try firing a gun!
I'll introduce you to the ins and outs of armed self-defense, gun ownership, gun safety, products for women shooters. We'll discuss everything from permits to holsters and do it in a candid and concise manner. I created The Well Armed Woman, LLC to be a complete resource without fluff or frills for women gun owners. Visit: www.thewellarmedwoman.com