Fountain Valley, CA – The new rechargeable SureFire Maximus Vision variable-output headlamp features a high-efficiency white-light LED that delivers 450 maximum lumens of warm, yellow-hued light — similar to the light produced by incandescent tungsten lamps.
This warmer beam color, which appears less blue to the human eye than light from a typical LED, renders colors more accurately, helps reduce eye strain for some users, and better penetrates dust and fog, making it ideal for medical use, explosive ordnance disposal (EOD), and many industrial applications.
The SureFire Maximus Vision ( http://tiny.cc/aam7gx ) is nearly identical to the original SureFire Maximus, except for its warm-colored light and its slightly lower maximum output. Lumen output ranges from one to 450 lumens and is controlled via a large knurled dial that permits easy one-handed output selection, even if your hand is gloved or numbed by the cold. The Vision's beam can also be aimed with one hand to shine precisely where light is needed, since the light assembly rotates up and down 90 degrees.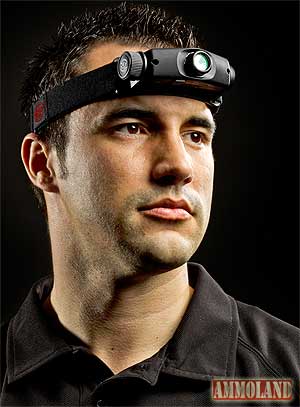 The Maximus Vision utilizes a custom reflector to produce a wide, smooth beam optimized for your field of vision, but its beam provides impressive reach at the maximum-output setting. Power is provided by an integral rechargeable lithium-ion battery designed to provide years of service; chargers for both wall-type AC outlets and 12-volt DC vehicle outlets are included.
A handy fuel gauge on the headlamp lets you know the battery-charge status at a glance, and a long-running SOS beacon provides an extra margin of safety should you ever get lost or stranded and need to signal for help. Constructed from tough, lightweight magnesium, the SureFire Maximus Vision thrives in the Great Outdoors, but its vision-friendly beam color and cost-effective rechargeable power source also make it ideal for everyday-use by industrial and tactical professionals, as well as anyone who needs a powerful, reliable headlamp.
The no-chafe, fine-weave headband and moisture-wicking Breathe-O-Prene forehead pad will fit over a bare head, a hat, and most helmets, making the Vision extremely comfortable to wear for extended-use applications.
Features and Benefits:
Custom LED emits wide, warm-colored beam optimized for penetrating fog and smoke
Variable-light-output dial permits one-handed adjustment of light level from 1 to 450 lumens, even with cold or gloved fingers
Rechargeable lithium-ion battery with wall (AC) and car (DC) chargers included
Lightweight and durable magnesium housing built to withstand years of hard use
Light assembly rotates up and down 90 degrees to direct light where needed
Custom headband features low profile buckles and Breathe-O-Prene® pad that wicks away
Order SureFire Maximus Vision Headlamp Online: http://tiny.cc/aam7gx
The Maximus Vision has an MSRP of $275.00 and is available for purchase through authorized SureFire dealers, by calling SureFire at 800-828-8809 or visiting www.surefire.com
About SureFire
Located in Fountain Valley, California, SureFire, LLC is the leading manufacturer of high-performance flashlights, hands-free lights, weapon-mounted lights, and other tactical equipment for those who go in harm's way, or anyone who demands the ultimate in quality, innovation, and performance. SureFire illumination tools are used by more SWAT teams and elite special operations groups than any other brand. SureFire is an ISO 9001:2000-certified company.