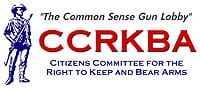 BELLEVUE, WA – -(Ammoland.com)- At the same time the Obama Administration turns loose five dangerous terrorists who want to hurt us, they have been trying to squeeze the economic life out of gun-related companies that have hurt nobody.
Congress must suck it up and act now to rein in President Barack Obama and his administration. Obama has broken the law by releasing five Taliban terrorist leaders in exchange for one soldier without notifying Congress and his administration has been trying to financially strangle gun companies with 'Operation Choke Point,' who have done nothing wrong.
This president's priorities are way off the grid, and only Congress can stop this nonsense. How many more laws will this Administration break before Congress will act?!
Tell them to suck it up, act now, and rein in this Administration who is abusing their power more than ever before!
A controversy erupted last week over Operation Choke Point, a Justice Department project that cuts off bank funds to allegedly questionable enterprises, but instead is also being used to restrict funds to companies it finds "objectionable." Those companies sell firearms and ammunition.
The Obama administration has happily been pressuring banks to cut off funds to firearms retailers, who serve law-abiding citizens interested in protecting their homes and families, while turning loose terrorists who pose a clear and present danger to those same American families.
Here is a list of a few gun retailers that have been directly affected by these outrageous regulations:
Top Gun Firearms Training & Supply has felt the wrath firsthand. Last month, it's local bank, BankUnited N.A., dumped the online business from its service. An explanatory email from the bank said: "This letter in no way reflects any derogatory reasons for such action on your behalf. But rather one of industry. Unfortunately your company's line of business is not commensurate with the industries we work with."
Black Rifle Armory in Henderson, Nevada, had its bank accounts frozen this month as the bank tried to determine whether any of Black Rifle's online transactions were suspicious.
In 2012, Bank of America suddenly dropped the 12-year account of McMillan Group International, a gun manufacturer in Phoenix, even though the company had a good credit history. Gun parts maker American Spirit Arms in Scottsdale, Arizona, received similar treatment by Bank of America, the country's largest banking institution.
It is time for Congress to step in and do its job as an equal branch of government. This administration has created one scandal after another, from Fast and Furious through Obamacare and Benghazi, the IRS, the Veterans Administration and now the Taliban release. Congress needs to play the adult and put some brakes on the White House before we all lose our constitutional rights.
The Independent Bankers Community of America has weighed in on 'Operation Choke Point':
"ICBA requests that the DOJ suspend Operation Choke Point immediately and focus its resources directly on businesses that may be violating the law, rather than targeting banks providing payment services."
Some members of Congress have already taken notice of the actions of the Administration. Sen. David Vitter (R-La.), a sitting member of the Senate Committee on Banking, Housing, and Urban Affairs, argues:
"There is a determined effort from [the Justice Department] to the regulators to cut off credit and use other tactics to force [payday lenders] out of business," he said. "I find that deeply troubling because it has no statutory basis, no statutory authority."
Some members of Congress have taken notice of the despicable actions of this Administration but they have sat back and let it take place. It is time for them to listen to the Patriots of this Country who are telling them to ACT!
The only way we can rein in this Administration is by putting pressure on every member of Congress to act. They need to remember they are an equal branch of Government to our President. He does not have ALL power to do whatever he wants.
Our Constitution was written to protect against a sole person having power over an entire people. We cannot allow this behavior to continue. Thank you for your help.
Sincerely yours,
Alan M. Gottlieb
Chairman
Citizens For The Right To Keep And Bear Arms (CCRKBA)
If you prefer to donate by check, please mail to:
The Citizens Committee for the Right to Keep and Bear Arms
12500 NE Tenth Place
Bellevue, Washington 98005
With more than 650,000 members and supporters nationwide, the Citizens Committee for the Right to Keep and Bear Arms is one of the nation's premier gun rights organizations. As a non-profit organization, the Citizens Committee is dedicated to preserving firearms freedoms through active lobbying of elected officials and facilitating grass-roots organization of gun rights activists in local communities throughout the United States. Contributions are not tax deductible. The Citizens Committee can be reached by phone at (425) 454-4911, on the Internet at www.ccrkba.org or by email to [email protected]