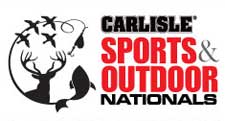 Carlisle, PA -(Ammoland.com)- The Carlisle Sports & Outdoor Show returns to the Carlisle PA Fairgrounds during the weekend of September 5-7 and along with a wide array of sports and outdoor-themed excitement, enthusiasts who love the great outdoors are encouraged to camp onsite for the entirety of the three-day event.
Best of all, not only will there be tents and modern day RVs onsite, the past is celebrated too via a very special Vintage Camper display near the heart of the activities throughout event weekend. There is no official definition as to what vintage is; however; it's expected that pull-behind campers and older RVs will be the primary focus.
Considering the copious options that exist with pull-behinds having been in production since the 1930s, this display should be easy to fill and a delight for all to enjoy. As part of the spotlight, the vintage showcase will be positioned near a major display of modern day campers and RVs and while the vintage ones are part of the show from an activity stand point, they can also actively be camped in by those enthusiasts who bring them onsite.
By camping at Carlisle, guests are afforded weekend access for two, onsite camping (no hook ups), trophies and/or plaques as awards for select campers, access to a shower house and bathrooms 24 hours a day and a dump station on property. There are also multiple concession options providing hot food throughout the morning and into the early evening hours. Finally, this unique opportunity comes at a $25 price point, which as previously mentioned, includes admission for two and on grounds parking for the entire weekend (a value of $70).
In addition to the cool campers at Carlisle, guests can experience a wide array of family-friendly and very interactive activities and displays. There is a swap meet and corral area dedicated to buying and selling goods, special seminars, Frisbee dog shows, tracking demonstrations, a gun show, sportsman auction, casting competitions, monster truck rides, power equipment demos, an archery shoot, calling competitions, wild life shows, reptile demonstrations and much more.
Complete event information is available via Carlisle Sports Outdoor.
About Carlisle Events
Carlisle Events is a partner or producer of 14 annual collector car, truck and outdoor-themed events. Events are held at the Carlisle PA Fairgrounds (Carlisle, PA), Bloomsburg Fairgrounds (Bloomsburg, PA), Allentown Fairgrounds (Allentown, PA) and Festival Park (Zephyrhills, FL). The season schedule hosts a sports and outdoors event, five automotive swap meets of varying size, four auctions, as well as individual specialty shows featuring Corvettes, Fords, GMs, Chryslers, trucks, imports and kit cars and tuner and modern customs. Founded in 1974 by friends Bill Miller and Chip Miller, events hosted at Carlisle attract more than a half a million enthusiasts annually from all corners of the globe.