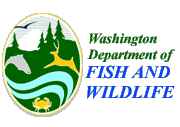 Yakima, WA -(Ammoland.com)- To reduce the risk of wildfires, the Washington Department of Fish and Wildlife (WDFW) will again restrict target shooting on the Wenas Wildlife Area near Yakima and Ellensburg.
Under a temporary rule in effect from June 2 through Sept. 30, target shooting will be restricted to the hours between sunrise and 11 a.m. when the risk of starting a wildfire is less severe. Public notice of the limited hours will be posted at all entry points and established target shooting sites in the wildlife area.
WDFW adopted the rule in cooperation with the Washington Department of Natural Resources (DNR), which owns lands within the 114,150-acre wildlife area.
Cindi Confer Morris, manager of the WDFW wildlife area, said temporary target-shooting restrictions adopted in the past two years have helped to reduce the number of wildfires sparked by bullets on those lands.
Since 2012, four fires attributed to target shooting have burned 37 acres in the wildlife area, she said. By comparison, target shooting caused six fires, scorching more than 600 acres in the two years prior to the adoption of summer shooting restrictions.
"All four of the wildfires sparked by target shooting since 2012 occurred in June before the restrictions went into effect," Confer Morris said. "Given that experience, we decided we needed to begin the restrictions earlier, rather than waiting until we started having fires."
Cost, as well as habitat protection, is a significant consideration in preventing wildfires, she said. In the three years prior to adopting shooting restrictions, WDFW's fire suppression and restoration costs in the wildlife area averaged $70,000 per year, compared to $7,500 per year since 2012.
Confer Morris said the latest restriction applies to this year's fire season only, and that WDFW will continue to involve the public in developing comprehensive rules for target shooting on the wildlife area.
"We are supporting efforts by Kittitas County to find an appropriate location to develop a public range that would be safe for the public to use year-round," she said. Sun Targets, a shooting range in Moxee, may also be an alternative for target shooting near the south end of the wildlife area.
Like all of WDFW's wildlife areas and water-access sites across the state, the Wenas Wildlife Area also has restrictions on campfires and prohibitions on fireworks and incendiary devices, including tracer rounds and exploding targets, to reduce the risk of wildfire.
About The Washington Department of Fish and Wildlife
The Washington Department of Fish and Wildlife (WDFW) is dedicated to preserving, protecting and perpetuating the state's fish and wildlife resources. The department operates under a dual mandate from the Washington Legislature to protect and enhance fish and wildlife and their habitats and provide sustainable, fish- and wildlife-related recreational and commercial opportunities.