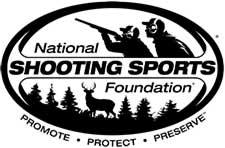 Newtown, CT -(Ammoland.com)- Federal Premium and CCI Ammunition, Savage Arms, Bushnell and BLACKHAWK! brands and products will be supporting the NSSF Rimfire Challenge program as ATK Sporting has become the Platinum Sponsor.
ATK Sporting is a portfolio-based consumer branded products company that is a leader in sporting, law enforcement and military ammunition, accessories and firearms.
NSSF Rimfire Challenge matches are conducted at host ranges nationwide. The program provides an excellent opportunity for shooters of all ages and ability levels to enjoy a family-friendly, affordable, low-key introduction to competition using .22-caliber handguns and rifles and steel targets.
The program's format emphasizes safety, fun and support for newcomers. Rimfire Challenge is a program of the National Shooting Sports Foundation, the trade association for the firearms, ammunition, hunting and shooting sports industry.
"We greatly appreciate having industry-leader ATK Sporting support the NSSF Rimfire Challenge at the Platinum level," said Zach Snow, NSSF Manager of Shooting Promotions. "ATK's generous commitment will allow newcomers to not only give target shooting a try but also acquire a taste of competition in a supportive environment."
"The NSSF Rimfire Challenge gives people a chance to get out and shoot," said ATK Sporting President Jay Tibbets. "That's why we're involved at this level. Our leading brands and products are a perfect fit for this program, and the initiative to get more people involved in our sport aligns with our mission. We look forward to seeing new shooters and novice and accomplished competitors get involved at ranges across the country."
To find out more on how your company can become a program sponsor or partner, go to NSSF Rimfire.
About The National Shooting Sports Foundation (NSSF)
The National Shooting Sports Foundation is the trade association for the firearms industry. Its mission is to promote, protect and preserve hunting and the shooting sports. Formed in 1961, NSSF has a membership of more than 10,000 manufacturers, distributors, firearms retailers, shooting ranges, sportsmen's organizations and publishers.