This event is 2A FlashMob Approved, anyone attending will automatically qualify for their own FREE 2A Mob Patch.
Illinois –-(Ammoland.com)- THE BIG ANTI-GUNNER LIE: "gun shops and ranges are dangerous launching points for armed attacks on schools, malls and the elderly."
SITUATION: A team of entrepreneurs is attempting to construct and operate a gun shop and pistol range in Niles, Illinois. The purpose of the range and gun shop would be to better serve law-abiding firearm owners in the northwest suburbs. The shop and range proposal has already passed out of committee by a 6-1 vote. However, the proposal must be passed by the full village council in order for the range to open.
THREAT: A Chicago-based extremist gun control group affiliated with the Bloomberg Moms is attempting to block the construction and operation of the range and gun shop in Niles. Backed by $50 million in Bloomberg's anti-gun war chest, the Moms are threatening political harm to local officials who support the proposed gun shop and range. This is part of a nationwide effort by the Moms to abolish private firearm ownership by shutting down all ranges and gun shops. If you care about freedom, you must help stop these radical gun-haters here and now.
ACTION REQUIRED: The Niles Village Board will be meeting soon to vote on whether or not the range will be allowed. It's vitally important that you be there during the vote to show your support for the range. The Bloomberg Moms will certainly be there to attack the 2nd Amendment and demand that your gun rights be taken away from you. You need to be there, in Niles, to stand up and defend your rights along with the rights of millions of other Americans.
Date: Monday, July 7,2014 Time: 7:00 PM (be there by 6:15 to get a good seat) Location: Niles Village Hall, 1000 Civic Center Drive, Niles, IL 60714
PREPAREDNESS: The Bloomberg Moms are determined radicals who will go to great lengths to attack you and the 2nd Amendment. Be prepared vigorously defend your rights. Do not let these people get the upper hand in the meeting – actively challenge any attack on your right to keep and bear arms. There is no compromise. There is no common ground. It's all or nothing in support of our Constitution!
Remember, only you can stop the antigunners. If you don't stand up to them now, it may be all over. …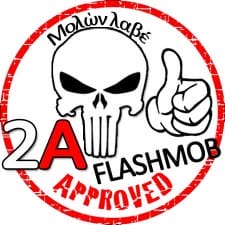 About:
The ISRA is the state's leading advocate of safe, lawful and responsible firearms ownership. Since 1903, the ISRA has represented the interests of over 1.5 million law-abiding Illinois firearm owners Visit: www.isra.org
About 2A Flashmob: 
In an effort to motivate gun owners and Second Amendment Supporters to show up in person at important events and rallies AmmoLand Shooting Sports News is giving away FREE 2A Flashmob Patches to anyone who attends a protest, rally, open carry event, committee hearing at your state capital or a Moveon.org counter protest. (You may already be eligible)
Spread the word, get out, get active!
https://www.ammoland.com/2a-flashmob-patches/