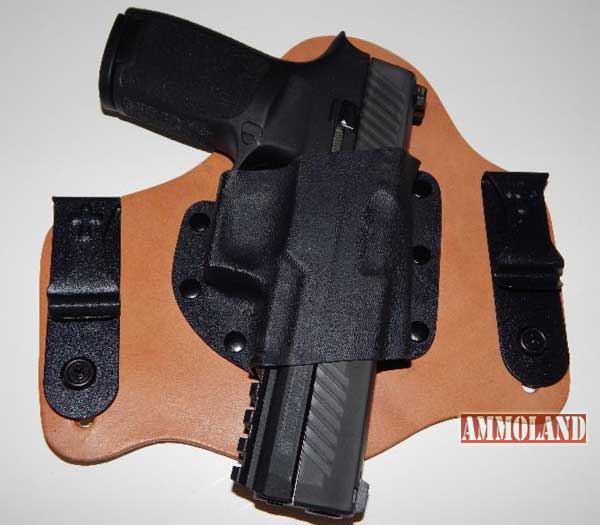 Republic, MO –-(Ammoland.com)- Top-quality holster manufacturer, CrossBreed Holsters, LLC confirms fit for the Sig Sauer P320.
CrossBreed Holters currently offers a full line up of handcrafted holsters to accommodate the new Sig Sauer P320 including the SuperTuck, recognized as the most comfortable IWB holster on the market today.
CrossBreed has several holster options to accommodate the Sig P320 including: the SnapSlide, SuperSlide, QwikClip, Bedside Backup and CrossBreed's Ohai Modular Holsters including those with RAM Mounting capabilities.
Keeping up with the industry innovation, providing unmatched customer service, and exceeding the customers' needs are just a few of the reasons CrossBreed Holsters has become and continues to be the leader in the concealed carry market today.
Shown above is a CrossBreed SuperTuck holstering the Sig Sauer P320. This SuperTuck is shown with the Premium Horsehide leather option.
The handcrafting of a CrossBreed holster cannot be imitated. With the "soft" side of the leather facing your body, you will find immediate comfort and stability right out of the package. Over time the holster forms to fit to the individual body for a secure fit and unmatched comfort, truly becoming a custom holster for each individual.
Crossbreed Holsters, LLC was started in 2005 by Mark Craighead to bring all of the best holster features together in one product without any of the non-functional design elements found in many holsters on the market. Mark's new breed of holsters has grown into a company strong with integrity, craftsmanship and customer service, producing a quality line of all-American hand-made holsters.
To learn more about Crossbreed Holsters, LLC visit www.crossbreedholsters.com or contact Trent Cooper at [email protected]