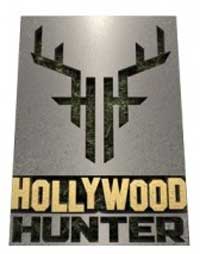 Los Angeles, Calif. – -(Ammoland.com)- With below zero temps and grueling treks, this week's Hollywood Hunter on Sportsman Channel tests Freddy Harteis as he spot and stalks for monster whitetail at Bear Paw Hunts in Great Falls, Mont. Tune in to see if Harteis's warm blood can survive Montana winters on Hollywood Hunter on Sportsman Channel Saturday, July 26 at 10 a.m. ET.
It is mid-November and the peak of the rut in Montana – and the cold reaches all places it shouldn't. Harteis brings his muzzleloader to spot and stalk whitetail with the owner of Bear Paw Hunts, Chris Faber.
"This isn't your typical whitetail hunt – we aren't sitting in a tree stand. We are trying to outsmart these bucks and close the distance so we can get them with a muzzleloader," said Harteis.

"The first day we start hiking in only about 200 yards and already we spot a buck chasing a couple of does. So this trip is promising."
But the talk of the town is there is a world-class whitetail buck cruising the neighborhood, so will Faber and Harteis be able to cover enough land to find him?
Don't think this is another show about an urban hunter trading a suit for camouflage. Harteis grew up hunting in Pennsylvania and was always along for the ride while his father harvested North America's most-desired big game trophies. Now, Harteis is able to showcase his family's ranch with world-class elk and mule deer episodes.  Los Angeles has never seen a better advocate for this industry as he rallies new blood to learn about the hunt.
To learn more about Hollywood Hunter, visit www.thehollywoodhunter.com and Facebook.com/HollywoodHunter1
Tune in to Sportsman Channel's "Hollywood Hunter" Saturdays at 10 a.m. ET.
To find Sportsman Channel in your area click here.
About Hollywood Hunter and Harteis Ranch:
From the glam of Hollywood to the rustic outdoors, The Hollywood Hunter follows big-game hunter Freddy Harteis and his celebrity wife, Jeannie Mai, (Fox Network's, "The Real" premiering in September) as Freddy teaches the big city what hunting can be about, a thrilling adventure that gives back. City slickers, partners, and charities join in to build lifetime memories to showcase the hunt is more about the experience. Established in 1995, the Harteis Ranch is nicknamed, "Ranch O Bella Vista," which translates into "Ranch of Beautiful Views."With 9,000 square feet with all the accommodations of an exclusive resort, the Harteis Ranch has expanded to a hunter's paradise, which includes first-class hunting cabins, a butcher shop, 30 plus ponds, over 20 miles of improved dirt roads and many other environmental considerations to improve the quality of habitat for the elk and other wildlife that call the Harteis Ranch home.