Chapter hosting kickoff meeting on Wednesday, July 30 in Mooresville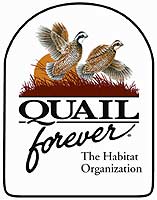 Mooresville, IN –(Ammoland.com)– Upland conservationists in central Indiana have formed the state's newest Quail Forever chapter.
Known as the Indian Creek Quail Forever chapter, the group will be active in upland habitat conservation projects in Hendricks and Morgan counties that benefit bobwhite quail.
"The Indian Creek Quail Forever chapter is already focusing on upland habitat restoration projects, including those on area public lands, and plans to host youth and shooting sports events as entry points for youngsters to get involved in upland hunting and, ultimately, upland conservation," says Brian Nentrup, Quail Forever's regional representative in Indiana.
Quail Forever, a national, nonprofit conservation organization, is dedicated to the conservation of quail, pheasants and other wildlife through habitat improvements, public awareness, education and land management policies and programs. Quail Forever chapters promote local, state, and federal conservation programs which help landowners protect environmentally sensitive acres for quail and other wildlife.
Quail Forever also employs a unique model of empowering local chapters with 100 percent control of the chapters' locally-raised funds to complete habitat and youth education projects in the chapters' own communities.
Indian Creek Quail Forever
The Indian Creek Quail Forever chapter has elected James Kershaw of Plainfield as president, Ronald Griffin of Martinsville as treasurer, Josh Griffin of Morgantown as banquet chair and Brian Nentrup of Fairland as secretary.
The chapter will hold its next meeting on Wednesday, July 30 at 6:30 pm at the Mooresville Public Library in Mooresville, Ind. The meeting is open to anyone with an interest in joining or learning more about the chapter.
Quail Forever and Pheasants Forever in Indiana
Indiana is home to nine Quail Forever chapters, 15 Pheasants Forever chapters and 3,000 Quail Forever and/or Pheasants Forever members.
About Quail Forever
Quail Forever is the quail conservation division of Pheasants Forever. Together, the organization is the nation's largest nonprofit organization dedicated to upland habitat conservation. Pheasants Forever and Quail Forever have more than 140,000 members and 745 local chapters across the United States and Canada. Chapters are empowered to determine how 100 percent of their locally raised conservation funds are spent; the only national conservation organization that operates through this truly grassroots structure. Since creation in 1982, the organization has spent $508 million on 475,000 habitat projects benefiting 10 million acres nationwide.