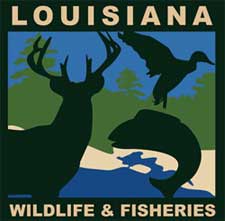 Abbeville, LA -(Ammoland.com)- The Louisiana Department of Wildlife and Fisheries (LDWF) will begin offering federal duck stamps to waterfowl hunters as an online option, starting Aug. 1, 2014.
The US Fish and Wildlife Service recently selected Louisiana, along with Michigan, Missouri, North Carolina and Virginia to provide this federal E-Stamp option to their hunters.
"We are pleased to be among the first in the country to offer this hunting permit purchase option and will continue to work to provide our customers more convenient methods for license and permit purchases," said LDWF Secretary Robert Barham.
Hunters who purchase the federal E-Stamp online starting Aug. 1 may use the confirmation number given at the time of purchase for 45 days from the date of purchase. Within that time frame, a US Postal Service certified, federal duck stamp will be mailed to the hunter.
To purchase a federal E-Stamp online starting Aug. 1, go to WLF Louisiana Hunting Licenses.
Hunters will also have the option to purchase a temporary federal E-Stamp from any retail vendor selling Louisiana hunting licenses. The temporary stamp issued at the time of purchase through either of these methods will allow the hunter to legally harvest waterfowl while awaiting an actual stamp that will be mailed to the license holder's address. After the 45 days, the customer must carry their federal duck stamp while hunting.
Louisiana was selected to participate in piloting the federal E-Stamp program based on LDWF's license sales experience, financial capability and technical preparedness.
About The Louisiana Department of Wildlife and Fisheries (LDWF)
The Department of Wildlife and Fisheries is charged with managing and protecting Louisiana's abundant natural resources. The LDWF's mission is to manage, conserve, and promote wise utilization of Louisiana's renewable fish and wildlife resources and their supporting habitats through replenishment, protection, enhancement, research, development, and education for the social and economic benefit of current and future generations; to provide opportunities for knowledge of and use and enjoyment of these resources; and to promote a safe and healthy environment for the users of the resources.