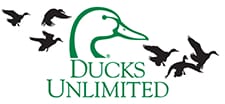 Memphis, TN –(Ammoland.com)– Ron Bartels, of Schriever, Louisiana, was elected to Ducks Unlimited Inc.'s national board of directors during the organization's annual convention in St. Louis.
"The leadership of our board of directors ensures we are fulfilling our mission to conserve, restore and manage wetlands and associated habitats for North America's waterfowl," said DU CEO Dale Hall. "Our board members are not paid for their work. They volunteer their time and resources because they feel so strongly about conservation. I welcome each new member and look forward to working with them in the years to come."
Ron and his wife, Jackie, are well-known for their pursuit of an impressive list of international game species as well as for their dedication to conservation organizations such as the Safari Club International and Ducks Unlimited.
"If you're going to harvest game, you absolutely must give back to the resource," said Ron, general manager at Eagle Energy Services, LLC.
In addition to his current position on the board, Bartels has been the Louisiana State Chairman, Advisory Senior Vice President for Membership and DU Canada board member. The Bartels have impressed upon their children and grandchildren the importance of conservation. At last count, 35 members from four generations of the Bartels family are carrying forward a passion for conservation through active support and involvement in organizations like Ducks Unlimited.
Ducks Unlimited recognized the Bartels' unyielding commitment to conservation by dedicating the Grand Bayou Unit project on Pointe-aux-Chenes Wildlife Management Area to them in November 2011. Pointe-aux-Chenes WMA is one of the most popular public lands for waterfowl hunting in the state, and it is only fitting that Ron's and Jackie's conservation legacy be tied to it.
Visit www.ducks.org for a complete list of DU's volunteer board of directors.
About Ducks Unlimited Inc.
Ducks Unlimited Inc. is the world's largest non-profit organization dedicated to conserving North America's continually disappearing waterfowl habitats. Established in 1937, Ducks Unlimited has conserved more than 13 million acres thanks to contributions from more than a million supporters across the continent. Guided by science and dedicated to program efficiency, DU works toward the vision of wetlands sufficient to fill the skies with waterfowl today, tomorrow and forever.