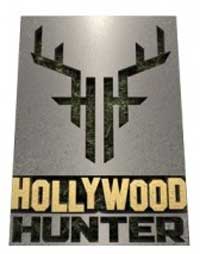 Los Angeles, Calif. –-(Ammoland.com)-  This week on Hollywood Hunter on Sportsman Channel, host Freddy Harteis learns to create a 'new normal' as he reflects on hunting without his long-time hunting partner, his dad. Its muzzloader season at the Harteis Ranch and Freddy joins close friend Bill Lingle to spot and stalk a massive bull elk he's spotted on property.
"The thrill use to be about me on the hunt, now my thrill comes from seeing others succeed on the Harteis Ranch," said Harteis.
Tune in to see if Harteis can make this a memorable elk hunt even without his hunting mentor on Hollywood Hunter on Sportsman Channel Saturday, July 19 at 10 a.m. ET.
This marks the 16th season at the legendary Harteis Ranch in Colorado, and the first season after the loss of Freddy's best friend and father, the one who literally taught him everything he knows about hunting. The year unfolds with Freddy going after big game on the ranch as he experiences the ups and downs of hunting without his hunting mentor.
Don't think this is another show about an urban hunter trading a suit for camouflage. Harteis grew up hunting in Pennsylvania and was always along for the ride while his father harvested North America's most-desired big game trophies. Now, Harteis is able to showcase his family's ranch with world-class elk and mule deer episodes.  Los Angeles has never seen a better advocate for this industry as he rallies new blood to learn about the hunt.
To learn more about Hollywood Hunter, visit www.thehollywoodhunter.com and www.Facebook.com/HollywoodHunter1
Tune in to Sportsman Channel's "Hollywood Hunter" Saturdays at 10 a.m. ET.
To find Sportsman Channel in your area click here.
About Hollywood Hunter and Harteis Ranch:
From the glam of Hollywood to the rustic outdoors, The Hollywood Hunter follows big-game hunter Freddy Harteis and his celebrity wife, Jeannie Mai, (Fox Network's, "The Real" premiering in September) as Freddy teaches the big city what hunting can be about, a thrilling adventure that gives back. City slickers, partners, and charities join in to build lifetime memories to showcase the hunt is more about the experience. Established in 1995, the Harteis Ranch is nicknamed, "Ranch O Bella Vista," which translates into "Ranch of Beautiful Views."With 9,000 square feet with all the accommodations of an exclusive resort, the Harteis Ranch has expanded to a hunter's paradise, which includes first-class hunting cabins, a butcher shop, 30 plus ponds, over 20 miles of improved dirt roads and many other environmental considerations to improve the quality of habitat for the elk and other wildlife that call the Harteis Ranch home.