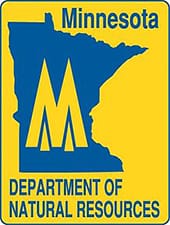 ST. Paul, MN -(Ammoland.com)- Along with another unusual spring and late ice-out; Minnesota's breeding mallard population counts are down slightly from last year while other species saw higher declines, according to the results of the annual Minnesota Department of Natural Resources (MDNR) spring waterfowl surveys.
This year's mallard breeding population was estimated at 257,000, which is 12 percent below last year's estimate of 293,000 breeding mallards, 1 percent below the recent 10-year average and 13 percent above the long-term average. The blue-winged teal population is 102,000 this year compared with 144,000 in 2013 and remains 53 percent below the long-term average of 215,000 blue-winged teal.
The combined populations of other ducks, such as ring-necked ducks, wood ducks, gadwalls, northern shovelers, canvasbacks and redheads was 116,000, which is 53 percent lower than last year and 35 percent below the long-term average.
The estimated number of wetlands was 343,000, up 33 percent from last year, and 28 percent above the long-term average.
"While we're seeing declines in this year's counts, the survey results can be affected by weather and visibility of waterfowl from aircraft," said Steve Cordts, DNR waterfowl specialist. "Continental waterfowl population estimates will be released by the U.S. Fish and Wildlife Service later this summer and may provide a better indicator of what hunters could expect this fall."
The same waterfowl survey has been conducted each year since 1968 to provide an annual index of breeding duck abundance. The survey covers 40 percent of the state that includes much of the best remaining duck breeding habitat in Minnesota.
A DNR waterfowl biologist and pilot count all waterfowl and wetlands along established survey routes by flying low-level aerial surveys from a fixed-wing plane. The survey is timed to begin in early May to coincide with peak nesting activity of mallards. The U.S. Fish and Wildlife Service provides ground crews who also count waterfowl along some of the same survey routes. These data are then used to correct for birds not seen by the aerial crew.
The DNR will announce this fall's waterfowl hunting regulations later this summer. The Minnesota waterfowl report is at MNDR Hunting Waterfowl.
About the Minnesota Department of Natural Resources (MDNR)
The Minnesota Department of Natural Resources is the agency of the U.S. state of Minnesota charged with conserving and managing the state's natural resources. The agency maintains areas such as state parks, state forests, recreational trails, and recreation areas as well as managing minerals, wildlife, and forestry. The agency is currently divided into sections Ecological Resources, Enforcement, Fish & Wildlife, Forestry, Lands and Minerals, Waterways, Parks and Trails, and Waters.