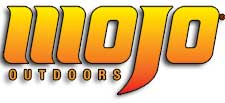 West Point, MS –-(Ammoland.com)-  Moose Media announced today that Mojo Outdoors, the world leader in motion decoys, will become the title sponsor of Pursuit Channel's Saturday Night Whistling Wings waterfowl block.
"I can think of no better sponsor for Pursuit's Whistling Wings than MOJO," said Greg Tinsley of MOOSE Media.

"Upon its introduction, MOJO's signature MOJO Mallard was a game changer for duck hunters and there's rarely a waterfowl hunter today without one of MOJO's durable and innovative products in their waterfowl gear. MOJO is waterfowl."

Terry Denmon, President & CEO of MOJO Outdoors, said:  "We are both proud and happy to support Whistling Wings contribution to both waterfowl hunting and conservation.  In addition to providing waterfowl hunters with some of the best hunting content available this block provides much in the way of education in waterfowl conservation."
Beginning July 5, 2014, the "Whistling Wings presented by Mojo Outdoors" content block (7:00 p.m. to 10:00 p.m. EST) will feature: The Honey Brake Experience, Flyway Highway, The Grind Waterfowl TV, Ducks Unlimited Television, Avian-X and Sporting Dog Adventures.
"There's not a more anticipated waterfowl collection on television by a long shot," said Rusty Faulk, Founder and CEO of Pursuit Channel.

"And Mojo Outdoors is the perfect presenting partner for Whistling Wings primetime Saturdays. Mojo gets it, as is evidenced by their commitment to the most important waterfowl night on television and we thank Mojo's Terry Denmon, Mike Morgan, Chuck Smart and the rest of the Mojo crew for their investment to the conservation-driven waterfowlers of America."
MOJO Outdoors, www.mojooutdoors.com, has long been recognized as the World Leader in Motion Decoys and progressed as the leader in All Decoys.  Today, MOJO is a company unsurpassed in bringing a wide variety of innovative outdoor products to the market that revolutionizes the outdoor experience.
Pursuit Channel, www.pursuitchannel.com, active in more than 42 million U.S. television households including HD linear and robust OTT feeds,  is the only audited outdoors television network viewable to every DIRECTV (604 PRST) and DISH Network (393 PRST) subscriber.