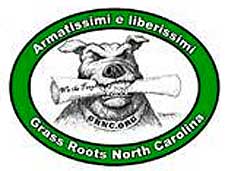 North Carolina –-(Ammoland.com)- In one fell swoop, the Republicans in the NC House have betrayed the gun owners of North Carolina.
Senate Bill 594, "Omnibus Justice Amendments" contains a provision that would increase the penalty for carrying a concealed weapon from a Class 2 misdemeanor on the first offense and a Class I felony on the second and subsequent offense to a Class A1 misdemeanor on the first offense and a Class H felony on the second and subsequent offense.
That is fancy gobbledygook for: Accidentally carry your legally concealed weapon into a prohibited place and BECOME A FELON!
So, yes, if your grandmother is carrying the handgun you gave her for her protection – as any responsible grandchild would – under the provisions of the CCW license you sponsored her through (you are a really good grandchild) and wanders onto forbidden ground, some serious heat is coming down on her.
The Republicans in the NC House had the opportunity last evening to repair this with an amendment introduced by Representative Larry Pittman which would have set the penalties back as they currently are. They apparently decided instead to "reach across the aisle" and stick it to you in the process. Of particular note among the sellouts is Tom Murry (R-Wake) who has sought the help of gun owners in the past, but was not there when you needed him in the pinch.
Imagine your grandmother holding a placard with those unflattering numbers across them. Not really the shot you had in mind for next year's Christmas card is it? If that happens, you will know who to thank. In fact, we have a complete list for you to email below.
It may not be too late, however. There is one last chance to undo this, but YOU MUST ACT QUICKLY. And by quickly we mean RIGHT NOW!
List of Republican Turncoats
Dean Arp (Union)
John Blust (Guilford)
James Boles (Moore)
Rayne Brown (Davidson)
Justin Burr (Montgomery, Stanly)
Rick Catlin (New Hanover)
Leo Daughtry (Johnston)
Ted Davis, Jr. (New Hanover)
Jimmy Dixon (Duplin, Wayne)
Nelson Dollar (Wake)
John Faircloth (Guilford)
Mark Hollo (Alexander, Wilkes, Yadkin)
D. Craig Horn (Union)
Julia Howard (Davie, Forsyth)
Pat Hurley (Randolph)
Frank Iler (Brunswick)
Linda Johnson (Cabarrus)
Donny Lambeth (Forsyth)
David Lewis (Harnett)
Susan Martin (Pitt, Wilson)
Pat McElraft (Cateret, Jones)
Allen McNeill (Moore, Randolph)
Tom Murry (Wake)
Stephen Ross (Alamance)
Jacqueline Michelle Schaffer (Mecklenburg)
Edgar Starnes (Caldwell)
Bob Steinburg (Camden, Chowan, Currituck, Pasquotank, Perquimans, Tyrrell)
Rena Turner (Iredell)
Harry Warren (Rowan)
Roger Younts (Davidson)
IMMEDIATE ACTION REQUIRED!
CONTACT COPY AND PASTE LIST (AFTER MESSAGE) AND DELIVER THE FOLLOWING MESSAGE: Let them know that now that you will not stand for this kind of sellout and that you will REMEMBER IN NOVEMBER. Will you allow them to criminalize innocent mistakes you or any member of your family (including Grandma) may stumble into?
DELIVER THIS MESSAGE
Suggested Subject: "SB594, Pittman Amendment Don't Sellout Gun Owners"

Dear Representative:

I am outraged that the House failed to pass the Pittman Amendment to SB 594, "Omnibus Justice Amendments" which would have protected legally licensed Concealed Carry holders from becoming felons because of simple mistakes. I understand that there may be one last chance to correct this and I EXPECT YOU TO DO SO. I understand that this was a recorded vote and I will REMEMBER IN NOVEMBER.

There are other ways of preventing gang violence than criminalizing potential mistakes by those I love. Such legal language is simply unacceptable and will not be forgotten. Make every effort under your power to stop this from happening. Anything less will be remembered at the polls in November.

Sincerely,

An Outraged North Carolina Voter
Copy and Paste List
Republicans:
[email protected], [email protected], [email protected], [email protected], [email protected], [email protected], Robert.Br[email protected], [email protected], [email protected], [email protected], [email protected], [email protected], [email protected], [email protected], [email protected], [email protected], [email protected], [email protected], [email protected], [email protected], [email protected], [email protected], [email protected], [email protected], [email protected], [email protected], [email protected], [email protected], [email protected], [email protected], [email protected], [email protected], [email protected], [email protected], [email protected], [email protected], [email protected], [email protected], [email protected], [email protected], [email protected], [email protected], [email protected], [email protected], [email protected], [email protected], [email protected], [email protected], [email protected], [email protected], [email protected], [email protected], [email protected], [email protected], [email protected], [email protected], [email protected], [email protected], [email protected], [email protected], [email protected], [email protected], [email protected], [email protected], [email protected], [email protected], [email protected], [email protected], [email protected], [email protected], [email protected], [email protected], [email protected], [email protected], [email protected], [email protected]
Democrats:
[email protected], [email protected], [email protected],
[email protected], [email protected], [email protected],
[email protected], [email protected], [email protected],
[email protected], [email protected], [email protected],
[email protected], [email protected], [email protected], [email protected], [email protected], [email protected], [email protected], [email protected], [email protected], [email protected], [email protected], [email protected], [email protected], [email protected], [email protected], [email protected], [email protected], [email protected], [email protected], [email protected], [email protected], [email protected], [email protected], [email protected], [email protected], [email protected], [email protected], [email protected], [email protected], [email protected], [email protected]
About: Grass Roots North Carolina is an all-volunteer organization dedicated to preserving the freedoms guaranteed us by the Bill of Rights. Our main focus is the right to keep and bear arms. GRNC was central to drafting and passing North Carolina's concealed handgun law and since that time has continued to push for improvements to gun laws. Visit:www.grnc.org