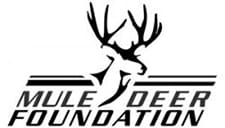 Salt Lake City, UT -(Ammoland.com)- The Northern Badlands Chapter of the Mule Deer Foundation and the North Dakota Game and Fish Department (NDGF) hosted their seventh annual M.U.L.E.Y. Day Camp on Saturday July 12.
The youth outdoor skills event was wildly successful with 225 youth and 126 adults attending. The Mule Deer Foundation's M.U.L.E.Y. (Mindful, Understanding, Legal, Ethical Youth) program was created to act as a gateway program to introduce, instruct and inspire youth to participate in the shooting sports and conservation.
The North Dakota event, held at the Fried Family Marksmanship Complex near Moffit, provided kids with the opportunity to shoot rifles, pistols and archery as well as participate in hunting safety and skills demonstrations.
"We couldn't be happier with how the M.U.L.E.Y. event went this year – we doubled our attendance, had a group of more than 50 volunteers and everyone had a wonderful time," commented Ryan Krapp, North Dakota's state chair for the Mule Deer Foundation. "These events are always such a great opportunity to introduce kids to the shooting sports and hunting, and we hope that this will be the event that will inspire them to continue these outdoor pursuits."
Every M.U.L.E.Y. event focuses on the safe introduction of youth into the shooting sports as well as educating youth on the importance of wildlife conservation. Participants are provided with all of the tools needed for the day including firearms and archery equipment, eye and ear protection, ammunition and targets and they have numerous opportunities to shoot throughout the day.
In addition, volunteers guide them in the safe handling of all shooting equipment and teach them the principles of safe range shooting as well as safe hunting. Additional sessions focus on the fundamentals of legal and ethical hunting along with mule deer biology, the importance of habitat conservation, and the role that hunting plays in maintaining healthy wildlife populations.
The North Dakota M.U.L.E.Y. event was made possible through the support of the event's sponsors MidwayUSA Foundation, Federal Premium Ammunition, Cedric Theel Toyota – Bismarck, Basin Electric Power Cooperative, Runnings Farm and Fleet, Scheels Sports, North Dakota Petroleum Council, NISHU Bowmen, Dakota Prairie Outdoors Radio, Cloverdale Meats, Carlson McCain – Engineering/Environmental, KFYR 550am and US Country 103.3 KUSB-FM. Volunteer organizations supporting the day's events included: North Dakota Game and Fish, Bismarck Mandan Rifle and Pistol Association, North Dakota Hunters Education Association, Aurora Energy Solutions LLC, and Delta Waterfowl.
About The Mule Deer Foundation (MDF)
The Mule Deer Foundation is the only conservation group in North America dedicated to restoring, improving and protecting mule deer and black-tailed deer and their habitat, with a focus on science and program efficiency. MDF is a strong voice for hunters in access, wildlife management and conservation policy issues. MDF acknowledges regulated hunting as a viable management component and is committed to recruitment and retention of youth into the shooting sports and conservation. Get involved at MuleDeer.
About The North Dakota Game and Fish Department (NDGF)
The mission of the North Dakota Game and Fish Department is to protect, conserve and enhance fish and wildlife populations and their habitat for sustained public consumptive and non-consumptive use.