Rinella Returns with Marathon Week of episodes beginning Monday, July 28 at 7 p.m. ET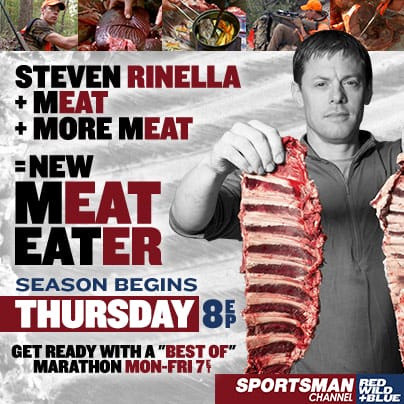 New Berlin, Wis. –(Ammoland.com)- Steven Rinella, host of Sportsman Channel's MeatEaterreturns for a Season Four recap week beginning Monday, July 28 at 7 p.m. ET.
The marathon leads viewers into the premiere of Season Five on Thursday, July 31 at 8 p.m. ET/PT. In the season premiere, Rinella teams up with the Rocky Mountain Elk Foundation to channel American pioneer Daniel Boone as he travels in the footsteps of the famed frontiersman throughout Southeastern Kentucky.
Rinella attempts to harvest an eastern elk for the first time to include in a mouthwatering meal thought to be one of Boone's all-time favorites.
Rinella begins his hunt for elk in "Coal Country," an area thriving on the spirit of Boone, American pioneer and Rinella's hero. Rinella is hoping to catch a glimpse of an elk. To keep with MeatEater's "field to plate" format, he will cook up a dish of elk liver. The host discovers harvesting his quarry will be a completely different game, but he is ready and willing to master the hunt and obstacles that stand in his way.
"Kentucky was once traveled by one of America's greatest pioneers and frontiersmen," said Rinella. "Hunting and preparing Daniel Boone's favorite wild-game – on the same land he once charted – is a great way to pay homage to an explorer who grew up in the great outdoors hunting what his family needed to survive."
MeatEater airs exclusively on Sportsman Channel, Thursdays at 8 p.m. ET/PT.
Learn about MeatEater on Facebook https://www.facebook.com/StevenRinellaMeatEater and Twitter https://twitter.com/@MeatEaterTV
To find Sportsman Channel in your area click here.
About Steven Rinella: Steven Rinella is an avid outdoorsman, writer, and television personality best known for his ability to translate the hunting lifestyle to a wide variety of audiences. He is the author of The Scavenger's Guide to Haute Cuisine, the award-winning American Buffalo: In Search of a Lost Icon, and most recently, Meat Eater: Adventures from the Life of an American Hunter.  He's a correspondent for Outside magazine, and his writing has also appeared in the New York Times, Glamour, O the Oprah Magazine, Men's Journal, and more traditional hunting and fishing publications like Field and Stream and Petersen's Hunting.
About Zero Point Zero: Zero Point Zero Production is an award-winning production company located in Manhattan. Founded by Executive Producers Chris Collins and Lydia Tenaglia in 2003, with Partner and Managing Director Joe Caterini coming aboard in 2009. Zero Point Zero has produced hundreds of hours of television in over 80 countries around the world, including the two Emmy Award-winning series Anthony Bourdain: No Reservations and Gourmet's Diary of a Foodie. Zero Point Zero has produced television series and specials for CNN, Travel Channel, Food Network, Cooking Channel, Discovery Channel, PBS, Sportsman Channel, The Weather Channel, and Bravo.   Visit www.zeropointzero.com for additional information.
About Sportsman Channel:Launched in 2003, Sportsman Channel/Sportsman HD is the only television and digital media company fully devoted to honoring a lifestyle that is celebrated by millions of Americans. The leader in outdoor television, Sportsman Channel delivers entertaining and informative programming that embraces outdoor adventure, hunting and fishing, and reveals it through unique, surprising and authentic storytelling. Sportsman Channel embraces the attitude of  "Red, Wild & Blue America" – where the American Spirit and Great Outdoors are celebrated in equal measure. The network also is dedicated to promoting our nation's military heroes and veterans, as well as providing a voice for conservation throughout the United States. Sportsman Channel reaches more than 36 million U.S. television households. Stay connected to Sportsman Channel online at www.thesportsmanchannel.com; Facebook, (facebook.com/sportsmanchannel); Twitter (twitter.com/SPORTSMANchnl and twitter.com/SportsmanPR) and YouTube (youtube.com/TheSportsmanChannel).