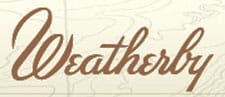 Paso Robles, CA – -(Ammoland.com)- As a sponsor of NRA All Access, Weatherby appears in six episodes during the popular television show's 2014 season on the Outdoor Channel.
"NRA All Access is a fascinating look at how hard the National Rifle Association works to protect our rights and the positive effect its programs have on the future of America's shooting heritage," said Executive Vice President/COO Adam Weatherby.

"We at Weatherby are proud to continue supporting a show that takes such a candid look at the number one defender of the Second Amendment."
NRA All Access, which airs Wednesdays at 10:30 p.m. EST/7:30 p.m. PST, takes viewers behind the scenes to witness the people and programs of the NRA. Anchors Matt and Jessie Duff, who is also a member of Team Weatherby, present touching stories of everyday Americans standing up for and enjoying their Second Amendment freedoms.
The July 23 episode features a profile of Willie Bloomquist, professional baseball player for the Seattle Mariners and Team Weatherby member. Known for his versatility, Bloomquist was drafted out of Arizona State University in 1999 and has also played for the Arizona Diamondbacks, Kansas City Royals and Cincinnati Reds. He is an avid outdoorsman who enjoys hunting and fishing.
For a preview of the July 23 episode, go to http://youtu.be/XddKtI3DKvk.
Weatherby rifles play a key role in the "Firearms Science" segment of the following episodes featuring shooting expert George Reinas:
July 23—"How to Zero Your Rifle"
August 6—"Using Mil Dot to Estimate Range"
August 13—"Spin-Drift"
August 20—"Bullet Trajectory"
August 27—"Spotters"
September 3—"How to Hit a Target at 1,000 Yards"
NRA All Access episodes re-air on Wednesdays at 2:30 a.m. EST/11:30 p.m. PST and Fridays at 1 p.m. EST/10 a.m. PST. More information on the show can be found at www.NRAAllAccess.com.
For more information on Willie Bloomquist, Jessie Duff and Team Weatherby, visit www.teamweatherby.com.
Founded in 1945, Weatherby, Inc.'s line features the new WBY-X products as well as the popular Vanguard Series 2 and legendary Mark V rifles (production and custom), Threat Response shotguns and rifles, semi-auto and pump shotguns, premium ammunition and security/shooting accessories. For more information, go to www.weatherby.com. The company is based in Paso Robles, Calif., and invites all hunters and shooters to visit its free online community at www.weatherbynation.com or Facebook page at www.facebook.com/Weatherbyinc. Follow @weatherbyinc on Twitter.