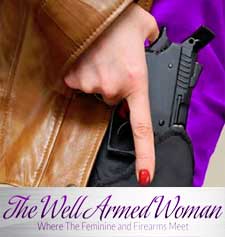 Scottsdale, Arizona – -(Ammoland.com)- Carrie of The Well Armed Woman shares some things to think about when considering the concealed carry purse:
When choosing to carry in a concealed carry purse, here are some questions you might ask yourself in making this decision:
Am I forgetful?
Have I left my purse behind in the last 6 months, in the restroom, a restaurant or store?
Am I around small children regularly who might have access to my purse?
Am I willing to carry my purse cross-body to minimize risk of someone taking my purse?
Can I keep it on me and store it properly when it must be off my body?
Will I vow to always have my gun in a holster in a designated compartment of the purse?
Am I disciplined enough to practice the awkward draw and use of my gun from the concealed carry purse? (yes, you may very likely need to shoot through the purse to not loose the precious seconds)
These are just a handful of important questions to ask yourself. It is your decision, one that it is important you make honestly and thoughtfully. If you can't answer these questions with confidence, than even if you think this is the best option for you because of the convenience, it likely is not a good choice for you.
Be sure to:
Practice With Your Concealed Carry Purse, and
Practicing The Draw From A Concealed Carry Purse
Carrie
About The Well Armed Woman:
The greater my interest and passion for guns grew, the more I found that the women I knew and worked with responded with excited curiosity to my new enthusiasm. Women wanted to know more and couldn't wait to try firing a gun!
I'll introduce you to the ins and outs of armed self-defense, gun ownership, gun safety, products for women shooters. We'll discuss everything from permits to holsters and do it in a candid and concise manner. I created The Well Armed Woman, LLC to be a complete resource without fluff or frills for women gun owners. Visit:www.thewellarmedwoman.com